Maika Yabua has known Sally Lloyd all his life and her influence has shaped his ambitions and desire to return to serve his community in Mougulu.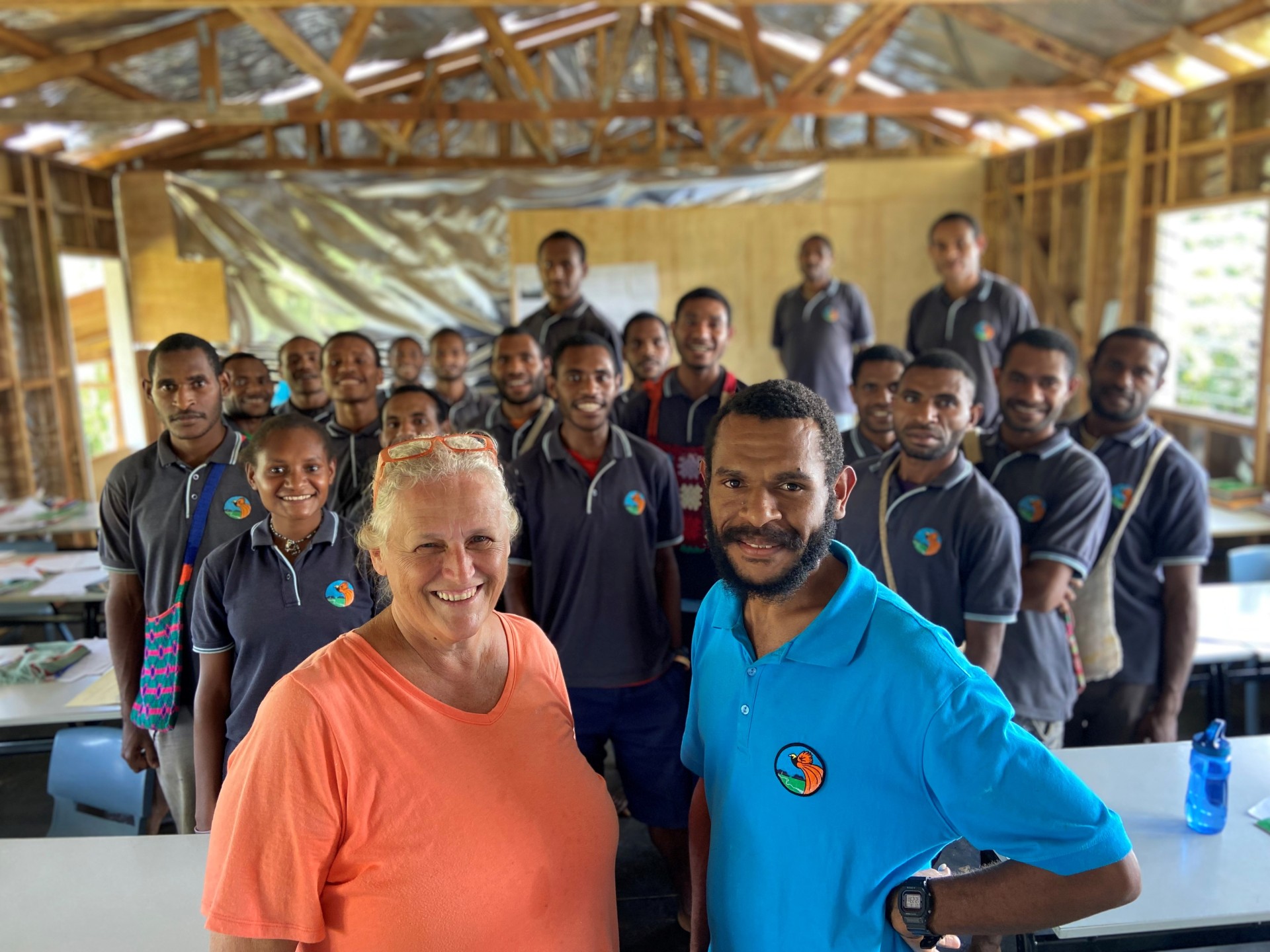 Sally and Maika with their students.
Like Maika, Sally and her siblings were raised in Mougulu where her parents, Tom and Salome Hoey, who moved to PNG from Australia in the 1960s, established the Mougulu Mission Station, and over the next 50 years built five airstrips, health clinics, churches, schools, radio station and a hydro-electricity plant. The infrastructure stands as the legacy of the Hoey family and other missionaries to this day.
Sally continued in her parents' footsteps and serves the people of Mougulu to this day. Most recently she and her husband, Ian, established the Nomad Mougulu High School, the very first high school in the area. In 2021, they took in 154 students and 222 this year including the first ever Grade 10s. The nearest high school to Mougulu was in Kiunga which takes six days to reach on foot.
Maika's father worked with Sally and her family at the Mougulu mission station where Maika grew up. The bond between the families grew. Maikas father attended Sally's tok ples (local language) elementary school and then Maika himself went through school locally and he was later accepted at the University of Goroka in Eastern Highlands Province, Sally and her family supported him throughout his academic endeavours.
Maika returned to teach at the new Nomad-Mougulu High School, specialising in science and mathematics. He was the first person from Dodomona village in the Strickland-Bosavi region of Western's North-Fly District to gain a university education. An achievement his family and community are most proud of. "My people are excited that I am back. I have no doubt that the students here will become somebody in future," says Maika.
He says he owes his inspiration to return and serve his own people to Sally Lloyd and her dedication to the young of Mougulu and the Strickland-Bosavi region. "We see Sally as someone we don't want to lose. She and her husband are very important to us," Maika added.
When asked about what drives her work, Sally said: "Just seeing the young people really keen to learn and that is going to make a huge impact on their communities. Especially children with learning difficulties or disabilities, they finally get a chance to go to school."
She tells her students: "You are all important even if you don't go on to Secondary studies or University, but through education you learn skills which help you stay in your village to support your people by learning skills like how to be a good farmer or run your own small business." We want our students to realise their value as members of their communities and to teach them life skills that will aid in them supporting development for their people through improved agriculture, health, and nutrition.
The Mougulu locals have referred to themselves as the 'forgotten people' but with the establishment of the high school, they see the opportunity for their young people to become part of the broader community. Ten years from now, Sally hopes to see their students go on to become trained teachers and return to Mougulu to teach children in their own communities. And Maika is the first to do so.
This is one of a series of stories we are featuring about Australians and Papua New Guineans and their connections in life, education, work, love and community.