Sustainable energy has the power to transform livelihoods across the country, especially for rural communities who have spent their lives planning activities around daylight hours.
Reliable light creates more time in the day to prepare food, do homework, sew bilums, and can extend the hours for public services like healthcare and education.
It can also bring profound benefits to the safety of women and girls, people living with disabilities, the elderly, and other marginalised groups in society who face increased risks of violence during the night.
The Papua New Guinea-Australia Partnership's Pawarim Komuniti Grants Program is providing clean, reliable, and sustainable energy solutions for rural and remote communities across PNG, through the provision of solar home systems and solar streetlights.
More than 324,000 people – over half of which are women and girls – are benefiting from solar lighting projects in households and communities.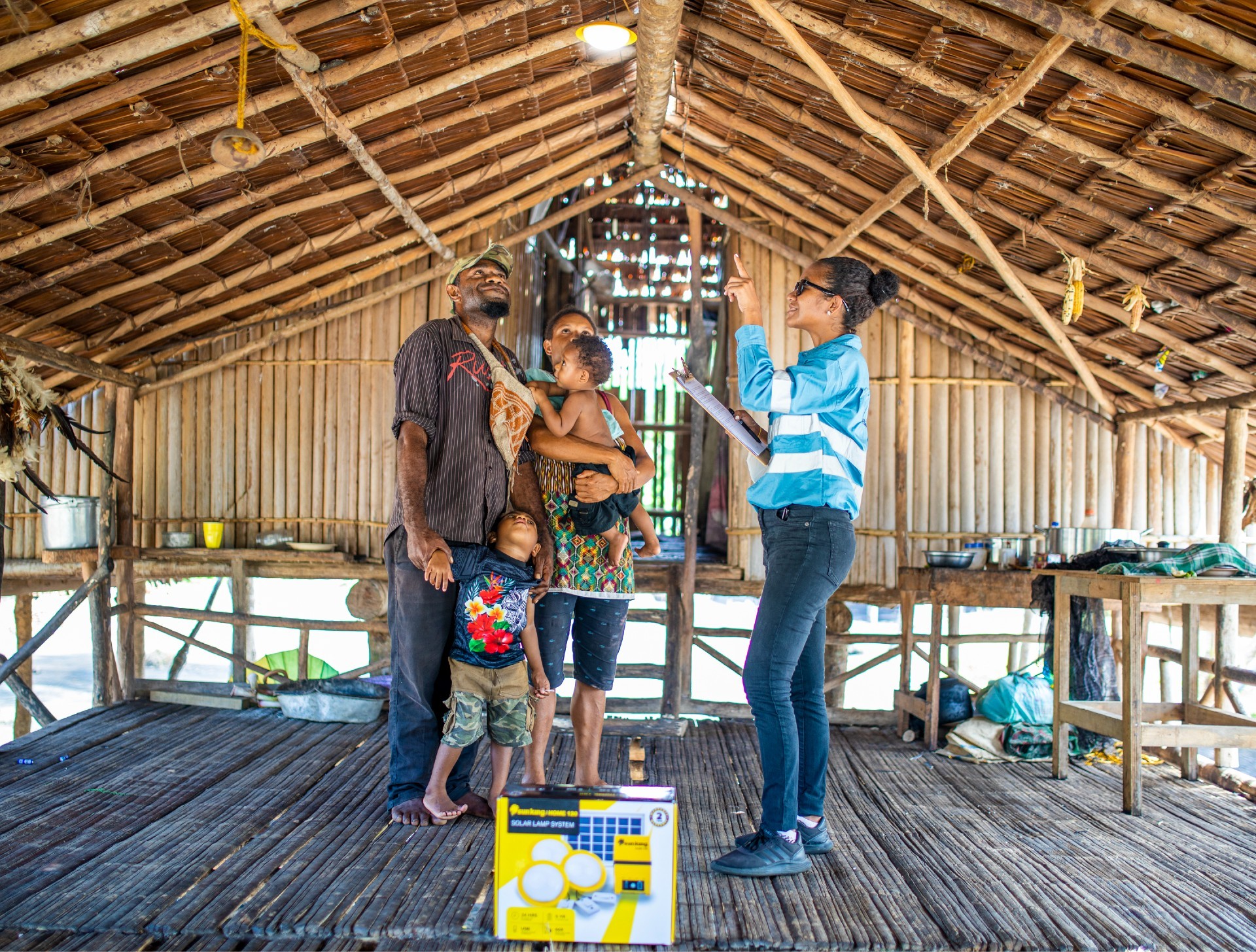 The Pawarim Komuniti team demonstrating new solar equipment with a family in Northern Province.
A female health worker from Buna village, Northern Province said: "It is much safer to be in the health facility late at night now that we have the solar lights. The lights provide protection from intruders and wild animals, which are deterred by the lights surrounding the facility, and I am safe to be inside with the lights on now."
Another community health worker from Ajeka village also in Northern Province added: "Before the lighting came, I was afraid to go into the aid post after darkness. The lights now make it much safer for me to tend to patients who are in emergency situations at night and who need me to give them treatment in the aid post facility. I can be in there all night with a mother going into labour and the light can assist with clear visibility for the birth and for any complications that might go wrong."
The PNG-Australia Partnership is committed to ensuring a safe, equitable, and empowering future for women and girls across PNG, and is supporting PNG to reach its goal of electrifying 70% of the country by 2030, including through renewable and clean energy solutions.
Find out more about Pawarim Komuniti here: https://pawarimkomuniti.org.pg/
For further information, including access to related materials, please contact the Australian High Commission media team: +675 7090 0100