More than 1,000 survivors of family and sexual violence, many of whom are children, have directly sought medical and psychosocial treatment at the ANGAU Memorial Provincial Hospital's refurbished Family Support Centre (FSC) in Lae since it opened in March 2019.
Prior to the new building, the FSC could only assist about 15 people a day. Now the Centre can assist an additional 12 people a day while maintaining privacy and offering a safe space for survivors.
FSC Nurse Manager, Sister Anastacia Wakon, said the poor condition of the previous building impeded the FSC staff's ability to respond to the increasing number of survivors presenting for treatment. The facility was too small for the number of clients treated, the roof leaked, and the center flooded when it rained.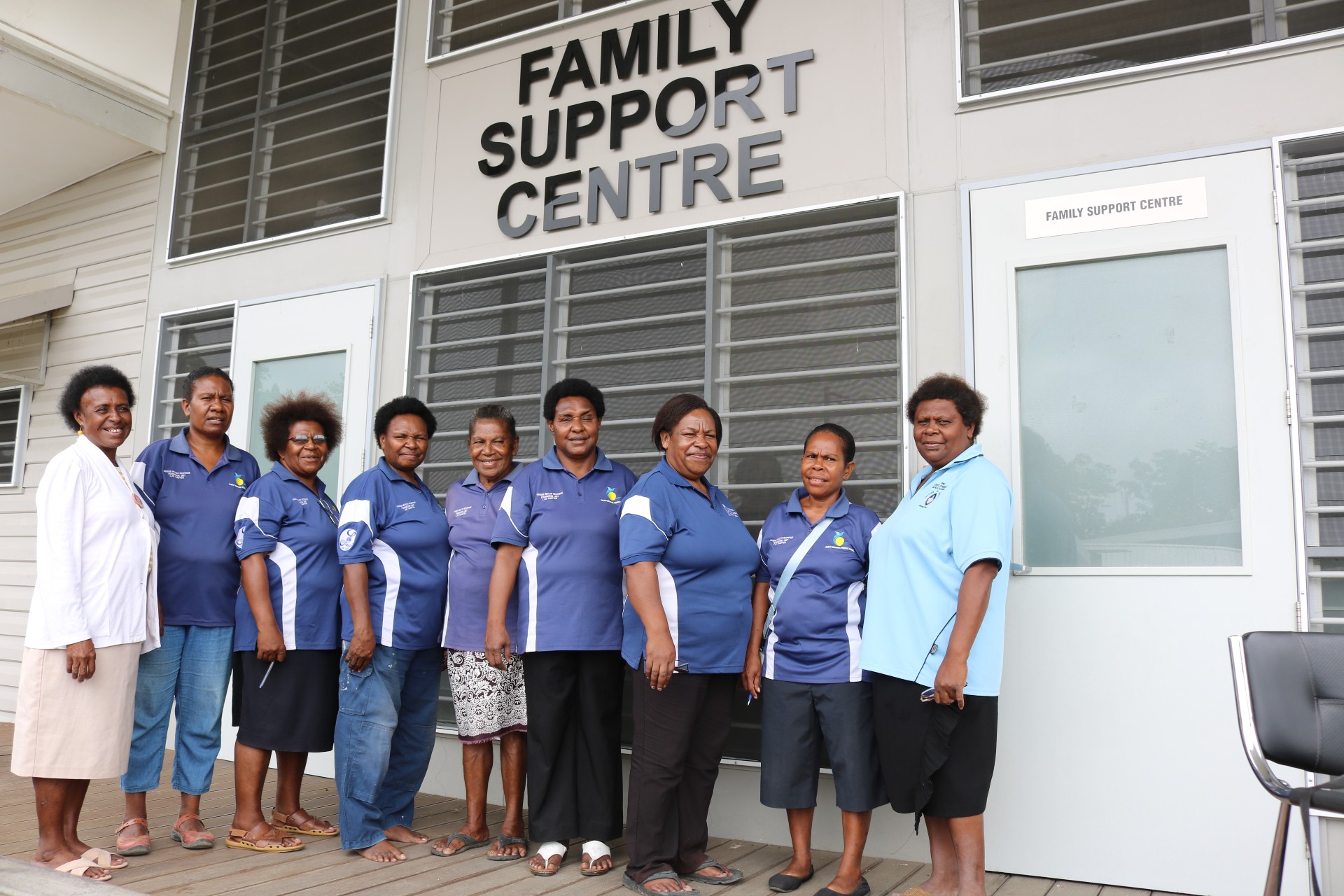 Staff members of Family Support Centre at the ANGAU Memorial Provincial Hospital.
Now, with the improved space, Sister Wakon and her team can treat survivors and provide counselling, thus meeting their physical and mental health needs. The center provides a private and safe place for patients before, during, and after admission. Purposefully located at the rear of the hospital campus, the FSC's position allows discrete access for survivors seeking assistance and protection from perpetrators.
"Our services are available from 8am till 4pm however those presenting outside of these hours go through the emergency ward and rape survivors are referred to the Family Support Centre emergency on call staff who handle such cases after hours, especially to administer post-exposure prophylaxis (PEP) within 72 hours and emergency contraceptive pills (ECP) within 120 hours," said Sister Wakon.
Addressing the needs of the most vulnerable in the community is a crucial element of the ANGAU Hospital. For this reason, the Redevelopment project managers consulted FSC staff during the design phase, and consideration was given to features including secure fencing, an air-locked pre-admission screening area, a secured waiting area, screened patient deck, and separate access point for direct vehicle entry or exit. The building design maximizes the use of natural lighting and ventilation and provides a welcoming space.
"Having this new facility has significantly contributed toward addressing the issues of family and sexual violence in Morobe, Momase Region and in Papua New Guinea. I'm very grateful to the Australian and PNG governments and I am encouraged because I feel that my team and I are now empowered to give our best and to reach out to the survivors and the community," said Sister Wakon.
The ANGAU Hospital Redevelopment is Australia's single biggest infrastructure investment in Papua New Guinea, but it is more than just a building, the focus of the project is to respond to needs and enable the highest standard of care.
For further information, including access to related materials, please contact the Australian High Commission media team: +675 7090 0100