The addition of colourful murals to the Hahela market on Buka Island in the Autonomous Region of Bougainville has made it a centre of attraction and inspiration for many Buka Town commuters and people from the surrounding communities.
The murals, painted onto the water tanks and plywood story boards at the market, depict traditional stories and legends, including various themes that symbolise life in the Autonomous Region of Bougainville.
This is the work of ten young Bougainville artists with the support of experienced visual artists from the Port Moresby-based Tool Boox Production (TBP), who were engaged for the Market Beautification Mural Painting pilot project. Funded by Australia, under the Bougainville Partnership's Water Security Program, the objectives of the mural painting project included developing visual arts skills that can support income generation, engaging the youth in civic activities, showcasing local talent and encouraging a sense of pride in the community.
The seven male and three female artists from Hahela, aged between 17-40 years, were selected based on their artistic ability and interest. Renowned Mural Artist and TBP General Manager and Creative Director, Peter Leo Ella guided the artists through a five-day mentoring program that included basic theory of art and design principles, drawing technique, painting and colour mixing, as well as traditional indigenous and cultural visual elements.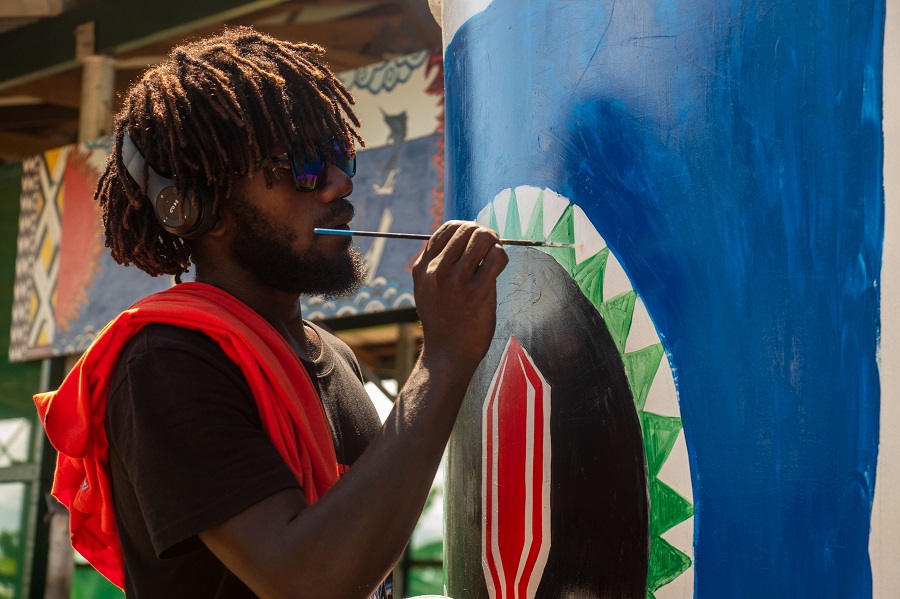 Artist Moses Maneo adding colour to the water tanks at Hahela Market in Buka.
One of the young artists, Joy Toboen, said "This has been a very fulfilling experience for me. I feel privileged to be part of the group mentored by someone as experienced as Peter. In a short time, we learnt useful skills that enabled us to develop our individual designs for the market murals. I do see opportunity and future in the visual arts for female artists like myself."
Mr. Ella said he was amazed by the display of raw talent by the Bougainvillean artists. "I have mentored many artists and have never seen such a display of talent as I have seen here with the Bougainville artists. I think Bougainville is rich in culture and traditional stories and seeing emerging talents bring that to life while working on the Bougainville Story Board is truly something to treasure. There is indeed an opportunity to develop the visual arts industry here and create job opportunities for local artists."
Hahela market mothers and community members were pleased with the outcome and say that the murals have brought "life and spark" to the market facility and the surrounding area.
Individuals and business houses impressed by the murals have expressed interest in commissioning individual art projects, potentially providing further economic opportunities for the young artists.
The Hahela market is one of the 11 market structures across Bougainville, worth over K1.5 million, supported by the Australian Government through the Bougainville Partnership.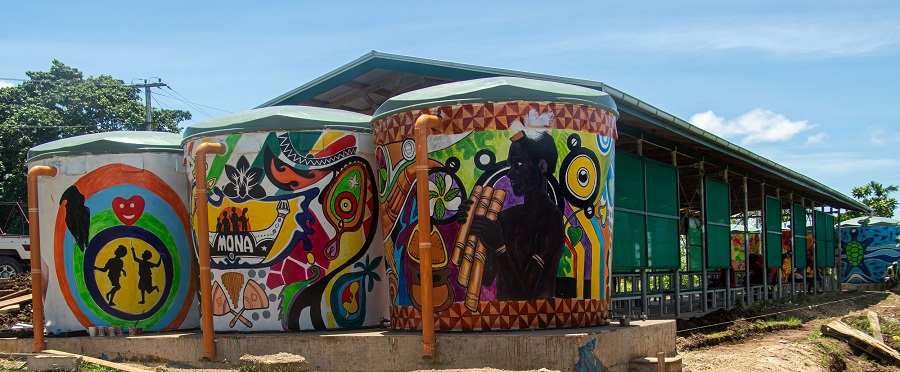 The completed mural (artwork) on the water tanks at Hahela Market in Kubu, Buka.
For further information, including access to related materials, please contact the Australian High Commission media team: +675 7090 0100