Opening of the PNG PNG- Australia Alumni Conference
Gateway Hotel, Port Moresby
29 August 2014
Remarks by HE Ms Deborah Stokes
Australian High Commissioner to Papua New Guinea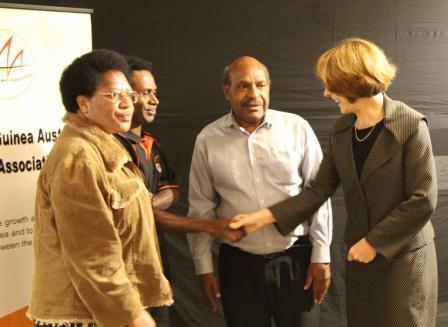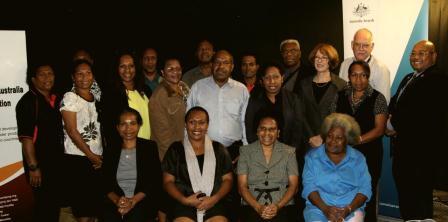 Acknowledgements:
Director General of Office of Higher Education and PNG Australia Alumni Association President, Professor David Kavanamur
Ms Vani Nades, Associate Director of IBS
PNG Australia Alumni Association executive
Alumni members and friends.
Thank you for your invitation to join you at this, my second PNG-Australia Alumni Association Conference.
It is a great pleasure to be here. 
Just the other week I was in Kokopo for meetings. On the weeked we took a banana boat out to a little island called Pidgeon island for some snorkling.
This little island no more than 100 metres across was a classic Pacific Island – white sandy beaches, coconut palms, azure blue waters, abundant fish and colourful coral reef – I thought this is paradise.
Many people live in such beautiful places throughout PNG and while they are indeed fortunate they would be the first to tell you that their island homes need to be improved with, better medical facilities, better schools, electricity and reliable water to name a few.
I have heard it claimed that PNG and the Papua provinces of Indonesia share the largest island in the world, but then I think of Australia which some claim as a continent but could well be an island.
But the notion of island – also conjures up isolation. Perhaps the only true island is the planet earth orbiting the sun and in a vast universe.
No man is an island – no woman either – nor a child. Nor should anyone be. For we know that we not only need other humans but together we can achieve much more.
This applies to countires as well as individuals.
That is especially the case in the 21st Century.
As alumni, you represent a strong and growing group of Papua New Guineans from across the public service, private enterprise and civil society.
You have more in common than your study experience in Australia.
You form a powerful network.
You are leaders in your field. You are passionate about PNG's development. You have an important role in helping PNG to face challenges and to make the most of its huge potential.
I can't think of a better group of people to be debating the tipping points for PNG.
Australia is committed to helping PNG to address many of the challenges you will talk about today.
We are PNG's largest development partner. We are also a strong security and economic partner.
Education must be a priority for both of our countries.
It is essential for addressing critical issues, such as the need for health services to fight TB or to ensure women don't die during childbirth.
Education is equally important if PNG is to maximize prosperity for all Papua New Guineans from mining and LNG.
PNG is benefitting from its natural resources but it will be its human resources that drive and shape those benefits – including how they are governed and who receives them.
I firmly believe comprehensive and quality education is vital for PNG. It provides people with foundational skills integral to driving development.
It is not enough for nations to just provide access to education, whether that be elementary, primary, secondary or tertiary levels.
It is just as important to deliver a quality education, including better governance of institutions, better teaching and better learning – for girls as well as boys, women as well as men.
Education could and should be THE tipping point in PNG – the one that multiplies development opportunities for everyone in the country.
Everyone in this room has benefited from tertiary study in Australia.
Higher education helps define societies, their values and fundamental principles.
Highly educated individuals are better able to influence and shape governance systems, accountability mechanisms, and civil society engagement.
An educated population is central to a country's competitiveness and its future.
I return to my theme that no man, woman or child is an island.
PNG's future prospects are entwined with that of the global economy. This brings huge opportunities such as that brought by the PNG LNG project.
PNG's economy is now closely linked with economies in North Asia in addition to its traditional links with the Pacific and South East Asia.
This brings disciplines and pressures.
It means for example that PNG now has a direct interest in the global energy market and LNG developments in places such as Qatar and the USA.
It means that PNG now has a direct interest in the security of sea lanes eg example in the South China sea.
In a globalised world, no country is self-sufficient in goods, services, investment and technology.
Australia is very reliant on foreign investment for its economy – at the same time Australian companies are big investors in other countries as diverse as the US, Malaysia and PNG.
In a global economy you are competing with other countries for investment and for markets – you simply can't ignore this.
Good leadership in the 21st century is about leading in a globalised world. It's about looking outwards. That is the challenge you have as leaders in PNG.
Hosting APEC in 2018 is a tremendous opportunity for the whole country to look outwards. It could be a tipping point.
I want to congratulate the PNG-Australia Alumni Association for organising today's event.
The Australian Government is proud to continue our support to alumni. Your network is critical to PNG's future and sustained economic growth.
We are very pleased to be supporting this event and to continue to provide Australia Award scholarships to Papua New Guinean men and women.
Thank you for the opportunity to speak to you and I wish well in your discussions.