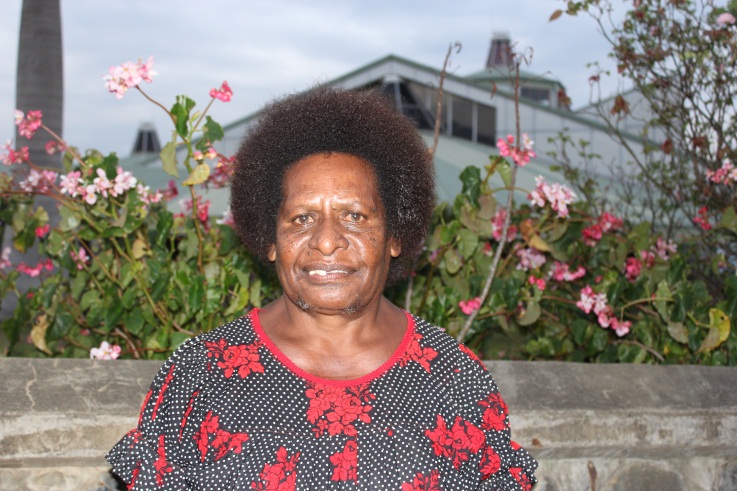 Never Give Up
Never Give Up is a moving story of community worker Gina Baidam from Serimambu village, which is a three hours by boat from Daru in the Western Province. The film portrays the difficulties faced by pregnant women in this remote village and Gina's ambition to change the situation for women and families in Severimabu.
Learn more about Gina Baidam here.
I went to school and became a nursing aid and after that I thought of becoming a women leader. In my term as a women leader I have worked in community service from the 1980s to 2014. I thought that to be a women's leader, I must try to do something that would help my women in my village Serimabu and in the Fly River District.
I had a heart, cry for my women. My women from their traditional delivery must change to a model so that a woman can have a good place to rest after she's given birth. Traditionally, when a woman is in labour, the father has to struggle hard to build a hut close to the river, and the mother has to be taken inside by a midwife to deliver. When the delivery is over, the mother has to overnight in that hut when it's not really a good place. It is bushy, grassy, close to water where the woman is giving birth, which I don't agree. A women as a human being should have a good place to deliver.
That is the heart that I had as a mother and as a woman, that there must be change for my women.
I have my husband who has supported me and my women leaders and community leaders from my birthright in Serimabu. Our project to help new mothers, is the first of its kind for this model style to go into my community. I had the support of all the men in my leadership as a woman.
The hardest part that I have faced is that only some men help when a woman is in labour but some men are scared to help their wives.
We have to do something for our women and for our young girls who are growing up. Holding a women's leader position is important. We are the women to rise up for the future of other women so that they too, can do what we are doing now.
Women must be given more power to do all these things like running businesses and projects because we have been given knowledge. I wish for all women to be empowered and for PNG to be a model for other countries.