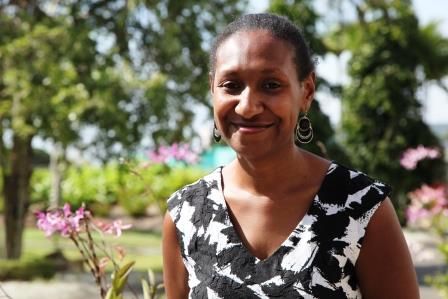 Ms Serena Sumanop is the Founder and Executive Director of The Voice Inc., a youth development organisation that runs programs in partnership with universities including the University of Papua New Guinea. Serena works with The Voice Inc. to design and deliver educational programs and facilitate community projects that empower young people to give back to their communities.
Here we speak with Serena about how young people can positively contribute to shaping a nation's future.
My own leadership journey started in 2002 when my Grade 9 teacher at Gerehu High School gave me no choice but to be the class nominee for school captain. I actually ended up winning the school elections. Little did I know that one person's belief in my leadership ability would turn a frightened and timid girl into one that is confident and able to contribute to the nation's future. Years later, in 2007 at the University of PNG, my course mates and I found ourselves discussing how we could mobilise resources to positively contribute to the community around us, instead of sitting around and complaining about the problems. We realised we could actually use what we had in our hands, which was our education and our voice, to be a part of the solutions. After much brainstorming and thinking collectively, we decided to begin with improving legal awareness in communities. That is how 'The Voice' was started.
We decided to call the organisation 'The Voice' because we believe that inside everyone is a voice urging them to do better, causing them to do the impossible and dream bigger dreams. We realised if people listened to that voice, the world would be a much better place. Imagine if kids, armed with purpose, could look inside themselves and discover their potential in an environment that supported their growth – where would our country be, where would the future of this nation be? Our vision was to see generations of young people driven by purpose and a confidence in the values of their contribution to their communities, nation and eventually the world.
I was at a crossroad after legal training because my dream was always to work with the government as a policy lawyer. However, I knew there was still a lot of potential to grow The Voice Inc. One Saturday afternoon, while alone in my room, I made a decision to lay down my dream and follow a call that was a bigger than I was. That led me to make a decision to work at Gadens Lawyers after graduating because I thought it was a good place to get the cause of The Voice Inc. in front of influential people like Lady Winifred Kamit. After 18 months of doing a bit of litigation and commercial work, I met clients of Gadens Lawyers who would end up funding 'The Voice'!
Five years later, The Voice has 200 young people undergoing our three year leadership development program with three university partners. We have a radio program on FM100, a youth magazine and two centres for leadership established at the University of PNG and the PNG University of Technology, and a centre coming soon to the University of Goroka. I work with the most committed and innovative group of staff members and volunteers. I also completed my Masters of Business, so that it's been quite a journey!
My heritage has given me a sense of wanting to give something back to the country. My dad was a diplomat so we got to live in different countries when I was little. He has greatly influenced my outlook of the world and the values I hold dear. I came back to PNG at the end of my fifth grade and really struggled with this question of 'identity'. I really wanted to create a space where people could just come in and feel accepted for who they were and to understand their God-given identity and value.
My mum and big sister have been the two most influential women in my life. My mum only went as far as grade six, but is the most determined and entrepreneurial person I know. She models what it is to be a woman with dignity and so much grace, despite the hardships she has been through. My sister has also greatly influenced me academically and professionally. She has that 'go get it' attitude and has always supported my dreams. I believe when women are empowered they set the standard and don't put up with substandard behaviour from men.
I also believe in strong families. Being exposed to a lot of violence growing up, I made a decision that I would not pass that on to my children. I now have a wonderful husband who is the picture of strength and humility. When I was given the opportunity to sit on the management committee for Femili PNG, a new non-government organisation that runs a case management centre based in Lae and funded through the Australian Government, I took it. I fundamentally believe that we can't build a nation on broken people, so the issue of violence must be addressed.
I love that in 'The Voice', we have a lot of strong boys and strong girls. I think it's powerful that 'The Voice' has managed to foster an atmosphere where both young men and women feel that they are valued and feel that their opinions matter. When girls understand their worth, they won't allow boys to treat them any less. Maybe that's what our forefathers envisioned when they wrote equality and participation as our third national goal and directive principle!
PNGs vision 2050 says we will be a healthy, wealthy, wise and prosperous nation. I will be 75 years old in 2050 and I want to work towards realising that vision. I believe that can only happen when we put our people at the centre of development through funding health, education and business opportunities, so they can sustain their livelihoods. I believe education is only powerful when you begin to question what is happening around you and find yourself in solutions. I want to be part of the generation that is rising in PNG that is committed to change.