Visit to Lae by Australian Minister for Foreign Affairs, Hon Julie Bishop
The Australian Minister for Foreign Affairs, the Hon Julie Bishop MP, travelled to Lae at the end of last week, to open the Lae Consulate-General and visit several initiatives under the Papua New Guinea-Australia development cooperation partnership, following the Ministerial Forum in Madang.
Speaking at the opening of the Lae Consulate-General, Minister Bishop said the opening signified the importance of the Papua New Guinea-Australia economic partnership.
Minister Bishop also met with women and men business leaders in Lae, where she spoke at an event hosted by the Australia PNG Business Council (PNG Chapter) and the Lae Chamber of Commerce at the Yacht Club.
Australia's Minister for International Development and the Pacific, Senator the Hon Concetta Fierravanti-Wells also attended the business breakfast.
During her remarks, Minister Bishop reiterated the strong trading partnership between Australia and Papua New Guinea.
The Minister went on to visit ANGAU hospital to inspect the progress of the redevelopment, which is part of the Joint Understanding between Australia and Papua New Guinea on further Bilateral Cooperation on Health, Education and Law and Order.
The first phase of the project has been underway since mid-2015 and is nearing completion, including the provision of new clinical equipment, construction of an operating theatre and ward and a stand-alone dental clinic and a major upgrade to the Lae School of Nursing.
Minister Bishop concluded her Lae tour at the National Agricultural Research Institute (NARI) where the Minister launched a project with NARI and Trukai Rice to pilot new rice milling technology.
Through this project, NARI will partner with Trukai to pilot solar powered rice milling equipment in a select number of rice-growing communities in Morobe Province, being facilitated through the Australian Government funded Incentive Fund.
This project builds on the long running partnership between the Australian Government and NARI, since its inception in 1996
For further information, including access to related materials, please contact the Australian High Commission media team: +675 7090 0100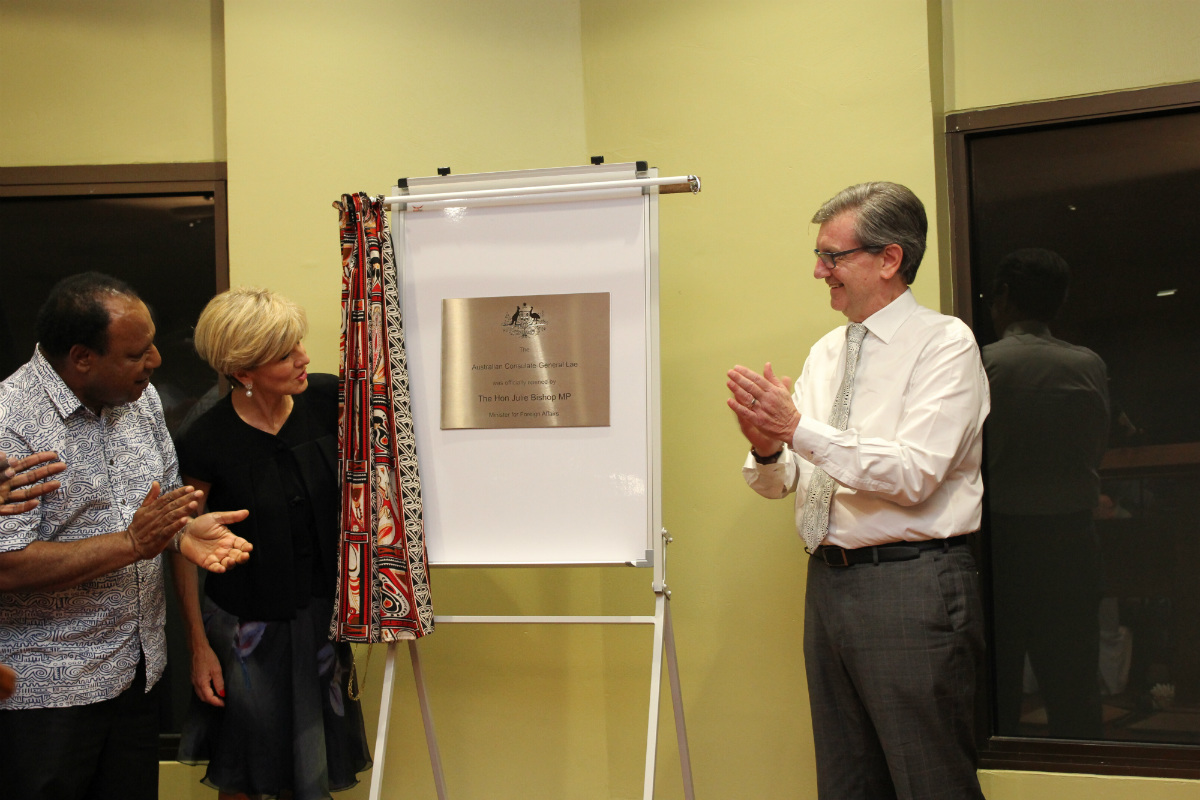 Minister for Foreign Affairs Julie Bishop unveils the plaque to mark the opening of the new Consulate-General in Lae.