Works underway to seal Buin town roads
A formal ceremony was held today to mark the progress of an Australian funded project to seal selected town roads in Buin. The K4.8 million project is part of Australia's long running partnership to help maintain Bougainville's road network. .
The town roads in Buin are a vital link connecting communities and businesses. The newly sealed roads will improve all-weather access to Buin Secondary School, residences, shops and essential services. The project will deliver safer, more reliable roads for the people of Southern Bougainville.
Speaking at the event, local member Timothy Masiu noted that this work was much needed and would provide a catalyst for Buin's development. He thanked Australia for its long-term support to Bougainville's Department of Technical Services.
Pedestrians and motorists have already noticed a significant improvement to the roads as works progress. The design includes an upgraded PMV stop for the town that will make life easier for the travelling public. More than 25 local residents have been employed on the project, with more opportunities to come.
Australian Deputy High Commissioner, Bronte Moules, said the project was consistent with Australia's long-term commitment to investing in key economic infrastructure in Papua New Guinea.
"This project has been planned, designed and procured in close partnership with the Autonomous Bougainville Government and the Papua New Guinea National Government, and should make a real difference to the lives of the people of Buin."
The project is on schedule to be completed by the middle of the year and complements other major road resealing projects funded by the Australian Government. These include the road from Arakawau to Kieta Port, and Arawa's town roads.
The Australian Government also supports the maintenance of over 300km of Bougainville's main trunk road. Work is delivered through small and medium sized local contractors as part of the Papua New Guinea – Australia Transport Sector Support Program.
For further information, including access to related materials, please contact the Australian High Commission media team: +675 7090 0100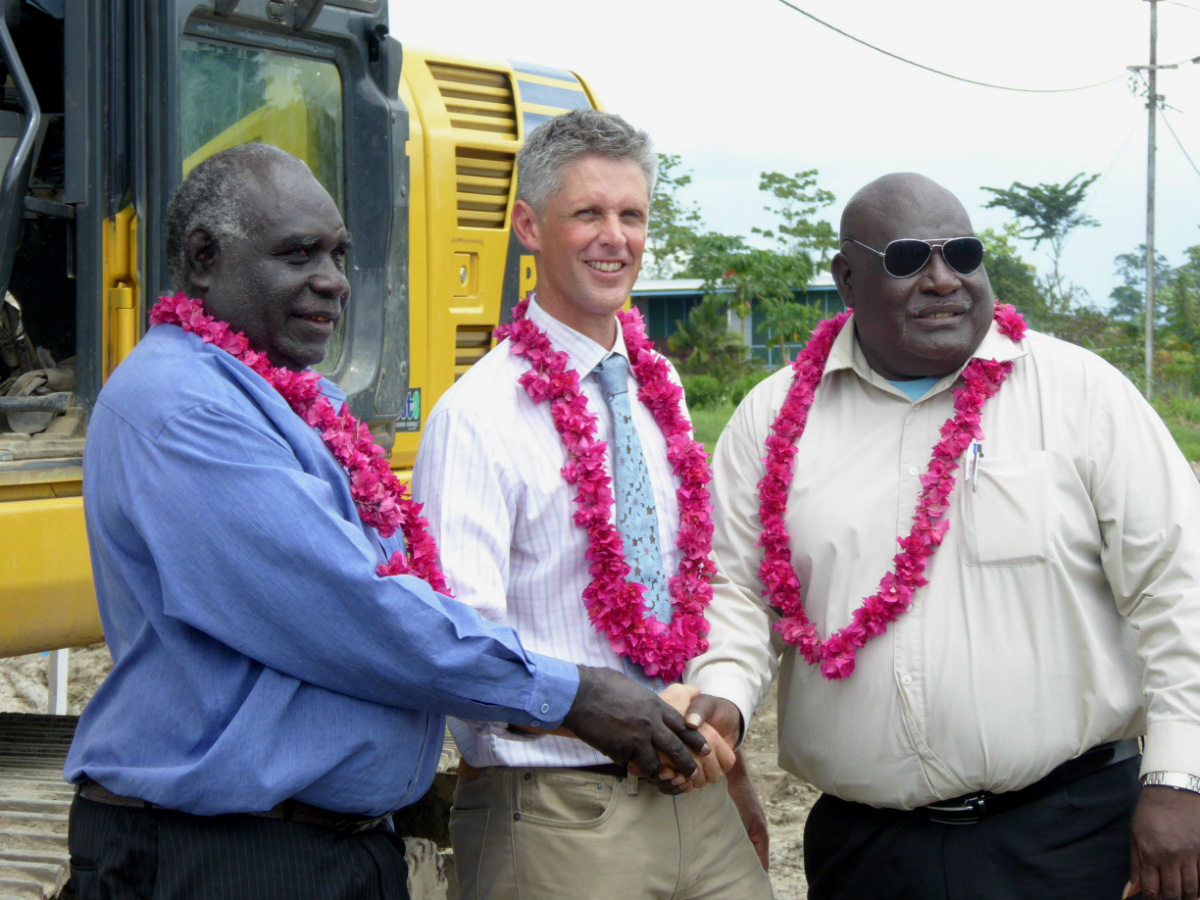 (L-R) Bougainville Minister for Technical Services Luke Karaston, Australian High Commission Counsellor Tim Bryson and Member for South Bougainville Timothy Masiu during the Buin town roads ceremony.