PNG & Australia work together for safer seas
Papua New Guinea's National Maritime Safety Authority (NMSA) and Australian High Commission this week signed a new partnership arrangement in support of the maritime agency's vital work. This will formalise joint efforts made by Papua New Guinea and Australia to improve safety at sea for all 15 maritime provinces in Papua New Guinea.
The new arrangement will see Australia provide support to NMSA to improve Papua New Guinea's compliance with international maritime safety obligations. The arrangement will also work towards ongoing improvements to safety for small craft and PNG's maritime legislative framework. It will also support NMSA to explore ways to more effectively and efficiently undertake ship inspections to improve regulatory oversight of commercial shipping. All activities under the arrangement will be managed and implemented jointly and align with the Government of Papua New Guinea's priorities.
The new arrangement builds on Papua New Guinea and Australia's long history of cooperation in maritime matters.
NMSA General Manager/CEO, Paul Unas, noted the benefits of the close relationship with Australia and the importance of continuing to work towards improving maritime safety standards.
Thanks to this technical support from Australia, NMSA will be able to achieve more. The arrangement will focus on realising our mandate, making our country's waters safer and meeting international standards," Mr Unas said.
Australian High Commission Minister Counsellor, Benedict David emphasised the value of this new arrangement.
"This package of support will enhance safety at sea for vessels large and small. This is vital for domestic and international trade as well as for families around the coast using small banana boats," Mr David said.
Australia's support to the NMSA under the arrangement will be delivered through the Government of Australia-funded Transport Sector Support Program. The Australian Maritime Safety Authority and Australian Department of Infrastructure and Regional Development will continue to play a critical role in technical advice and project delivery under the partnership arrangement.
For further information, including access to related materials, please contact the Australian High Commission media team: +675 7090 0100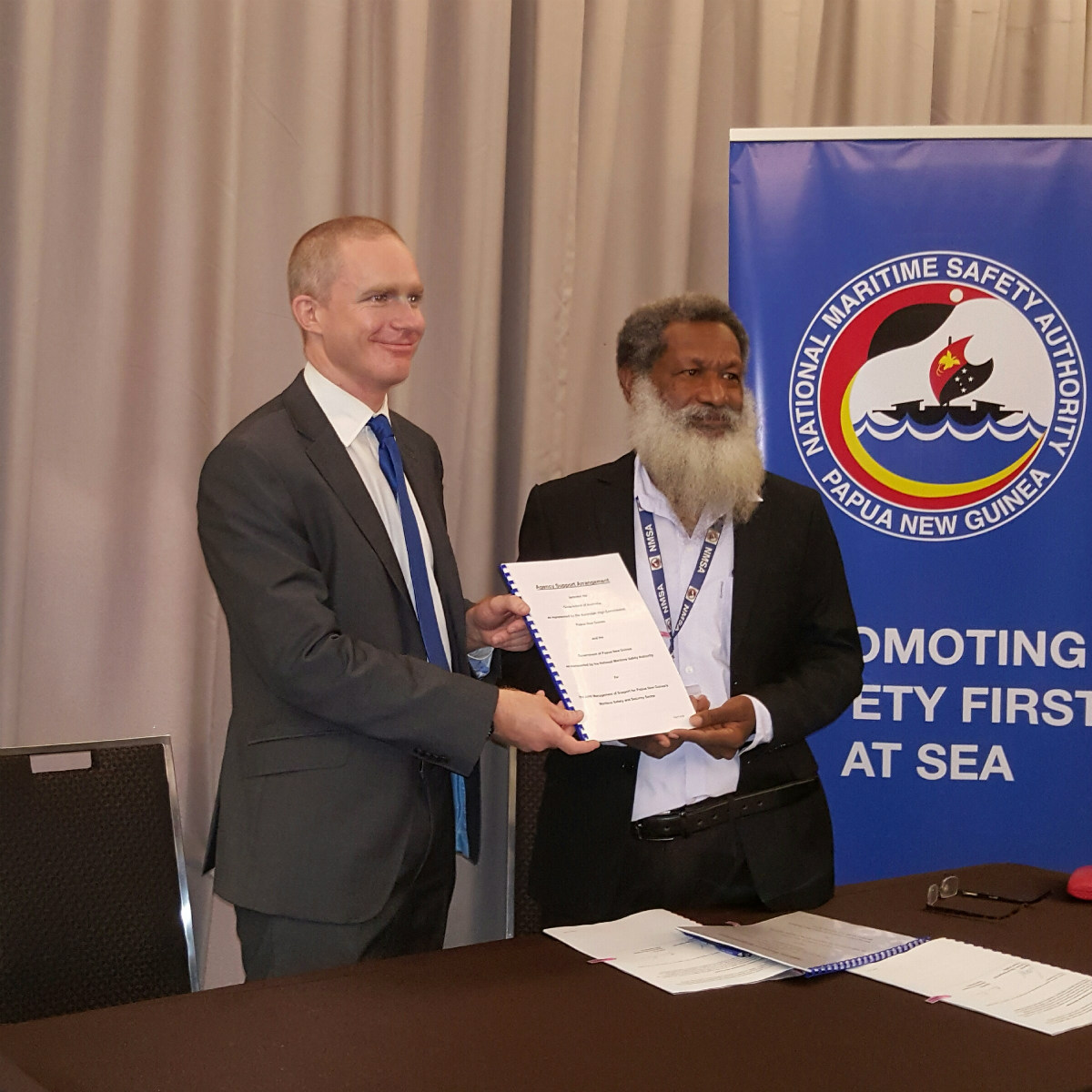 Australian High Commission Councillor, James Passmore and PNGNMSA General Manager /CEO Paul Unas following the signing of the partnership arrangement.