The Crocodile Prize Organising Committee has announced the winners of Papua New Guinea's national literary competition, The Crocodile Prize, in a ceremony at the Australian High Commission.
Speaking at the reception, Emmanuel Peni, Author and Chairman of the 2016 Crocodile Prize Organising Committee said that the Crocodile Prize is a powerful approach to promote literature overall, while also propelling development.
"To write, you must be inspired by things and events around you –when you write from these inspirations, you inspire others to do something," Mr Peni said.
The winners are:
Wardly D Barry-Igivisa –Kina Finance, Poetry Category
Alison Kult –Kumul Petroleum Limited Holdings, Short Stories Category
Theresa Gizoria–Cleland Family, Heritage Writing Category
Mary Cathrine Tavore –Paga Hill Foundation, Writing for Children Category
John Kamasua –PNG Chamber of Mines and Petroleum, Essays and Journalism Category
Roselyn Tony –Minerals Resources Development Corporations, Women in Writing Category
Peter Jokisie –Abt and Associates, Emerging Young Writer Category
Australian Deputy High Commissioner Bronte Moules who spoke at the reception said: "Papua New Guinea has tremendous writing talent and awards such as the Crocodile Prize ensure that emerging authors are recognised and heard, both by Papua New Guineans and the international community, on important cultural, historical and contemporary issues."
The Crocodile Prize is Papua New Guinea's only national literary competition. The 2016 contest received more than 550 entries from both male and female writers from all over Papua New Guinea
The Crocodile Prize Writers Competition is named after the first novel written by a Papua New Guinean, 'The Crocodile' by Sir Vincent Eri published in 1970.
For further information, including access to related materials, please contact the Australian High Commission media team: +675 7090 0100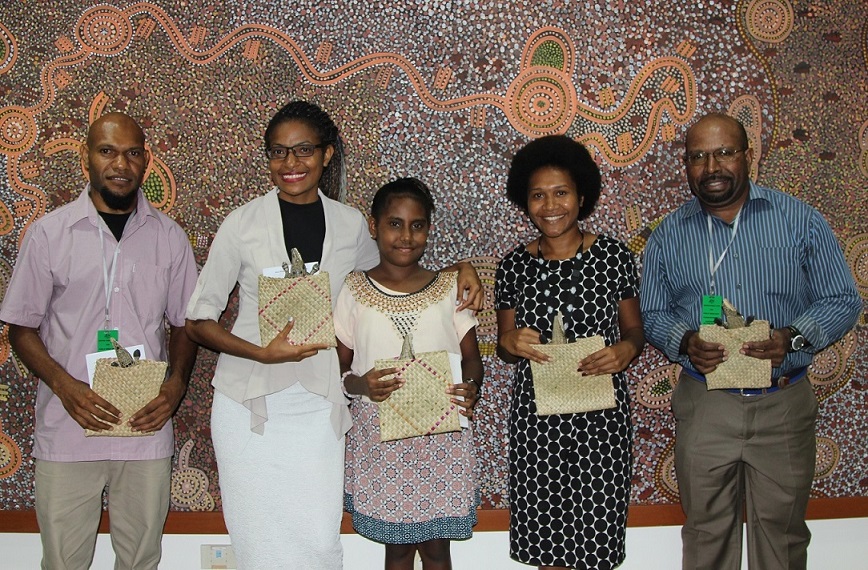 Crocodile Prize winners (L-R) Wardly D Barry-Igivisa, Alison Kult, Mary Cathrine Tavore, Theresa Gizoria, and John Kamasua. Roeselyn Tony and Peter Jokisie were not able to attend the awards reception.