Fifty-three emerging leaders from the Government of Papua New Guinea have participated in workshops with the University of Adelaide and University of Queensland in Port Moresby. The workshops are part of a series of short-course scholarships offered through the Australia Awards.
The courses will enable participants involved in key trade and diplomacy roles to sharpen their skills to represent Papua New Guinea internationally, including at the APEC meetings hosted in the country in 2018.
The workshops gave participants insight into the program as well as what they can expect from the course, including related activities and site visits that they will be doing.
In April, International Trade students will travel to Adelaide to attend the University of Adelaide, and International Diplomacy students will travel to Brisbane to study at the University of Queensland.
Australia Awards hosted a networking event for the participants which included speeches from Ambassador Ivan Pomaleu, APEC Secretariat; Rod Hilton, Minister Counsellor, Australian High Commission; and Professor Christopher Findlay, Executive Dean, Faculty of the Professions at the University of Adelaide.
Mr Hilton spoke about the importance of building collaborative and productive relationships and trade opportunities across the Asia Pacific region.
"As the host country for APEC in 2018 Papua New Guinea has a wonderful opportunity to showcase the country to some of the world's biggest economies. That's why today's events (and the short-course activities) are so important," he said.
Mr Hilton congratulated the participants and said he hoped they would return home from their studies in Australia better equipped to provide knowledge, advice and wisdom to advance Papua New Guinea's interests in the region.
Australia Awards assists the public and private sectors, as well as civil and non-governmental organisations, to support the skills development of working professionals in Papua New Guinea's priority sectors.
For further information, including access to related materials, please contact the Australian High Commission media team: +675 7090 0100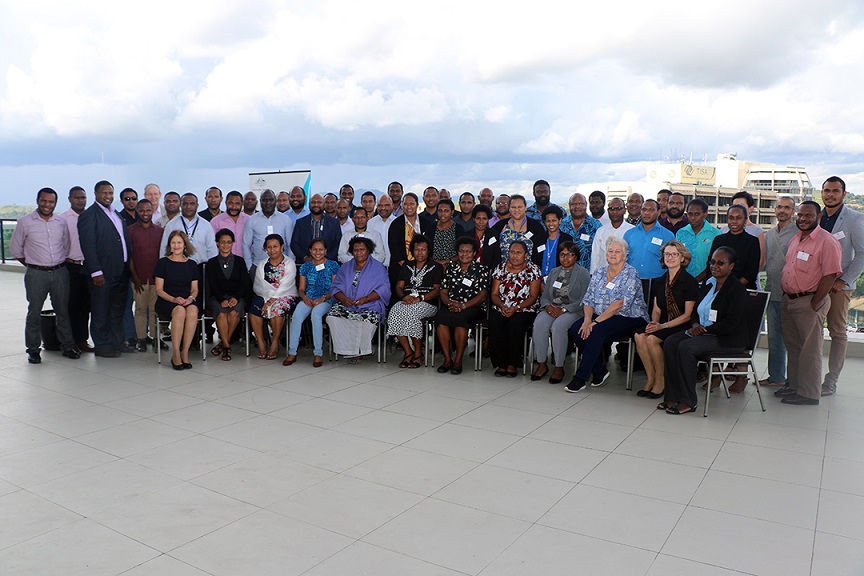 Group photo of both course groups and staff of the universities and Australia Awards.