Two of Papua New Guinea's brightest young public servants are at the forefront of preparations for APEC 2018.
Eileen Aitsi and Isidore Sitapai Pasanai - both policy officers with Papua New Guinea's APEC Secretariat - have been seconded for eight months to APEC headquarters in Singapore as intern program directors.
Ms Aitsi, 31, provides policy support to the Steering Committee on Economic and Technical Cooperation, which helps to build the capacity of member economies in areas such as health, transport, small and medium enterprises, fisheries and education.
"This experience has given me a bird's eye view of how far Papua New Guinea has come in its relationship with the region. Papua New Guinea's affiliation to APEC has enormous potential, which I believe is yet to be fully tapped into."
Mr Pasanai, 29, is attached to the Committee on Trade and Investment, which coordinates measures to boost trade within the APEC bloc.
"Papua New Guinea is a trading nation. We rely on exports for our income and our growth," he said.
"Papua New Guinea needs to stimulate its exports and create conditions that will encourage new ones. We cannot afford to put up barriers that make the cost of exports higher."
He said it was enlightening to work in a "smart and connected" economy like Singapore.
"Although geographically small, Singapore is a role model island economy which developing economies like Papua New Guinea can learn from," Mr Pasanai said.
The Australian Government is supporting the pair during their internship, as part of its partnership with Papua New Guinea to strengthen trade and economic growth.
Four other Papua New Guinean public servants have completed similar internships.
Ms Aitsi said APEC 2018 offered an unmatched opportunity for the nation to set the policy agenda for discussions between member economies.
"We will develop policy priorities that are related to our domestic priorities as well as other members of APEC," she said.
"We will take into consideration external challenges that come into play such as globalisation, anti-protectionism, climate change and the digital economy."
She said APEC 2018 would help to boost the capacity of Papua New Guinea's public policy makers, setting the scene for long-term economic benefits.
"Hosting APEC could open new opportunities for tourism, boost cross-border trade, increase cross-border education opportunities and drive infrastructure development."
Both officers said they were looking forward to sharing what they had learned with colleagues when they return to Papua New Guinea.
For further information, including access to related materials, please contact the Australian High Commission media team: +675 7090 0100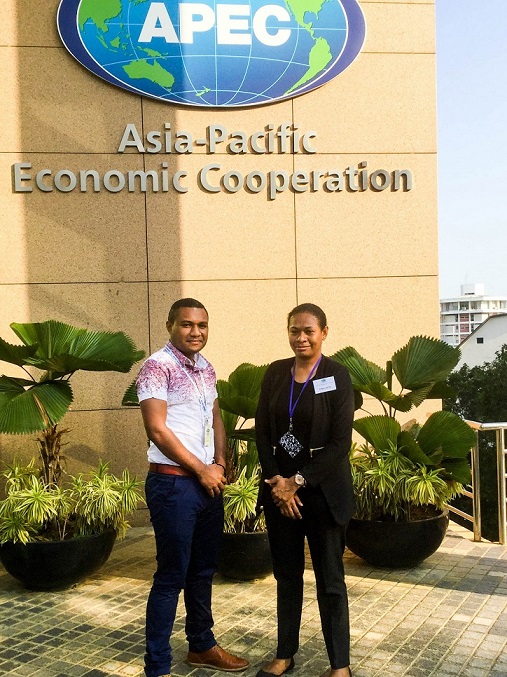 APEC interns, Isidore Sitapai Pasanai and Eileen Aitsi