The Autonomous Region of Bougainville has successfully hosted the 2017 Bougainville Chocolate Festival, with several local farmers taking out the top awards for producing Bougainville's finest cocoa beans.
A total of 28 farmers from across Bougainville had their cocoa made into chocolate by Paradise Foods' Queen Emma Chocolate Factory. The delicious final products were then assessed by a panel of local and international judges.
Winners were ranked either bronze, silver and gold for the best quality chocolate, in the open, youth and women categories.
Now in its second year, the festival has grown in prominence and scale bringing together farmers, chocolatiers, industry representatives and government officials to share information, network and discuss market access. As well as to sample and enjoy Bougainville's finest beans.
Australia's Deputy High Commissioner, Bronte Moules commended the Autonomous Bougainville Government and its partners for the ongoing effort to revitalise the cocoa industry.
"The Papua New Guinea-Australia Partnership is working to develop the industry because it is good for business and the economy, it provides employment for people in rural areas and it is putting money into the pockets of Bougainvilleans," Ms Moules said.
"I would like to congratulate all the farmers who have participated in this year's festival, the people of Arawa and the Autonomous Bougainville Government and its partners for hosting another successful festival," Ms Moules said.
The Bougainville Chocolate Festival is an initiative of the Autonomous Bougainville Government led by the Department of Primary Industries in partnership with the Governments of Papua New Guinea, Australia and New Zealand.
For further information, including access to related materials, please contact the Australian High Commission media team: +675 7090 0100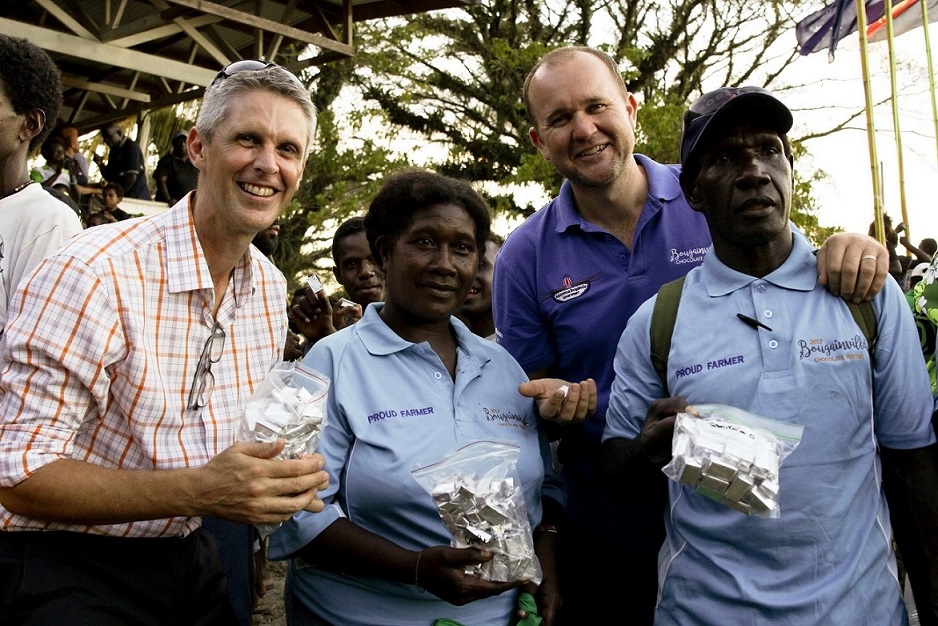 Australian High Commission's Tim Bryson (left) with judges and one of several gold medal winners at the 2017 Bougainville Chocolate Festival Cosmas.