Koki Market vendors, mostly women from the coastal villages of Central Province can now find shelter in a newly built transit centre.
The Koki Market Transit Lodge is a joint initiative of the Australian Government, the Minister for Lands and Physical Planning and Member for Moresby South, Hon. Justin Tkatchenko; Governor Powes Parkop and National Capital District Commission; and United Nations Women through their Safe Cities Program.
The building is located near the front of Koki Market and is a safe and clean 'home away from home' for market vendors. Previously some women would sleep in the market place where they were at risk of theft, assault, harassment and sexual violence.
Designed to be culturally appropriate and environmentally-friendly, the two storey facility is securely fenced and has separate open and secure sleeping areas for women and men, a sleeping area for women with disabilities, a common storage room, ablution blocks and laundry with solar hot water and solar security lighting outside. The amenities also include hauswins, sheltered cooking facilities, a new guard house, water purification and storage tanks.
At its official opening yesterday, Australian High Commissioner Bruce Davis said: "Australia is pleased to have made this important investment to make the Koki Market safer for women vendors."
This K4.1million project is part of the broader support that Australia is providing to improve Koki Market through the Papua New Guinea-Australia partnership.
For further information, including access to related materials, please contact the Australian High Commission media team: +675 7090 0100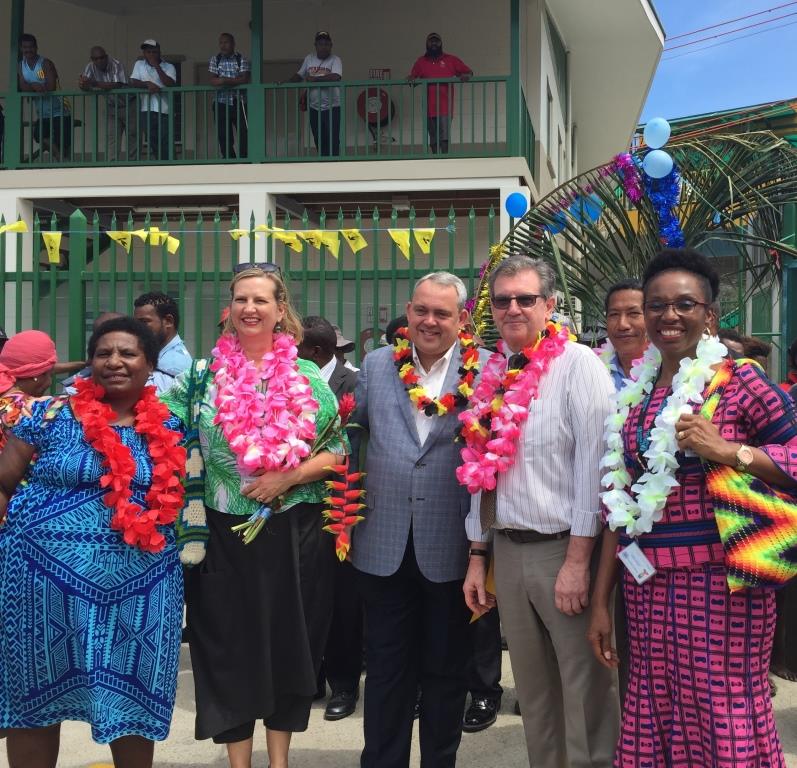 (R-L) Adekemi Ndieli, UN Women Deputy Country Representative; Australian High Commissioner Bruce Davis; Minister Justin Tkatchenko; Susan Ferguson, Counsellor (Gender ) Australian High Commission, and a representative of the Koki market.