Papua New Guinea's new Minister for Transport and Infrastructure, the Hon. Westly Nukundj MP, and Australian High Commission Minister Counsellor Benedict David, today signed a partnership arrangement that will further boost the effectiveness of the Transport Department.
The two-year partnership arrangement between Papua New Guinea and Australia to November 2019 will support the Department to deliver more effectively on its mandate to improve transport connectivity for all Papua New Guineans.
The new arrangement continues the long-standing partnership between Papua New Guinea and Australia in the transport sector. Minister Nukundj was pleased to mark this new phase of support.
"This partnership with Australia will help the Department to meet the emerging needs of the transport sector. This support is crucial to delivering the goals set out in our corporate plan. This comprehensive program of support will assist us across the maritime, aviation and land transport sectors. A more effective Department will be able to better connect communities and support economic development."
The arrangement provides critical support to the development of Papua New Guinea's next Medium Term Transport Plan, which will set out how best to ensure sustainable investment in the sector. The arrangement will assist Papua New Guinea's preparations for APEC 2018, seek to optimise sectoral funding arrangements and support ongoing institutional reforms, legislative drafting, budget preparation, and reporting and policy development. The arrangement will also aim to boost capabilities at the National Weather Service in the Department of Transport, given the critical role of weather forecasting and modelling for transport safety.
The arrangement will expand on the sector's successful accelerated executive leadership program for female leaders.
Minister Counsellor Benedict David noted the strength and depth of the bilateral partnership in the sector.
"Australia is proud to build on our long-standing support for the transport sector, which is a key pillar of our growing economic and security partnership with Papua New Guinea. We look forward to working closely with Papua New Guinea's new Government to tackle its key priorities in the sector."
Australia's support will be delivered through the Department of Infrastructure and Regional Development and the Papua New Guinea – Australia Transport Sector Support Program.
For further information, including access to related materials, please contact the Australian High Commission media team: +675 7090 0100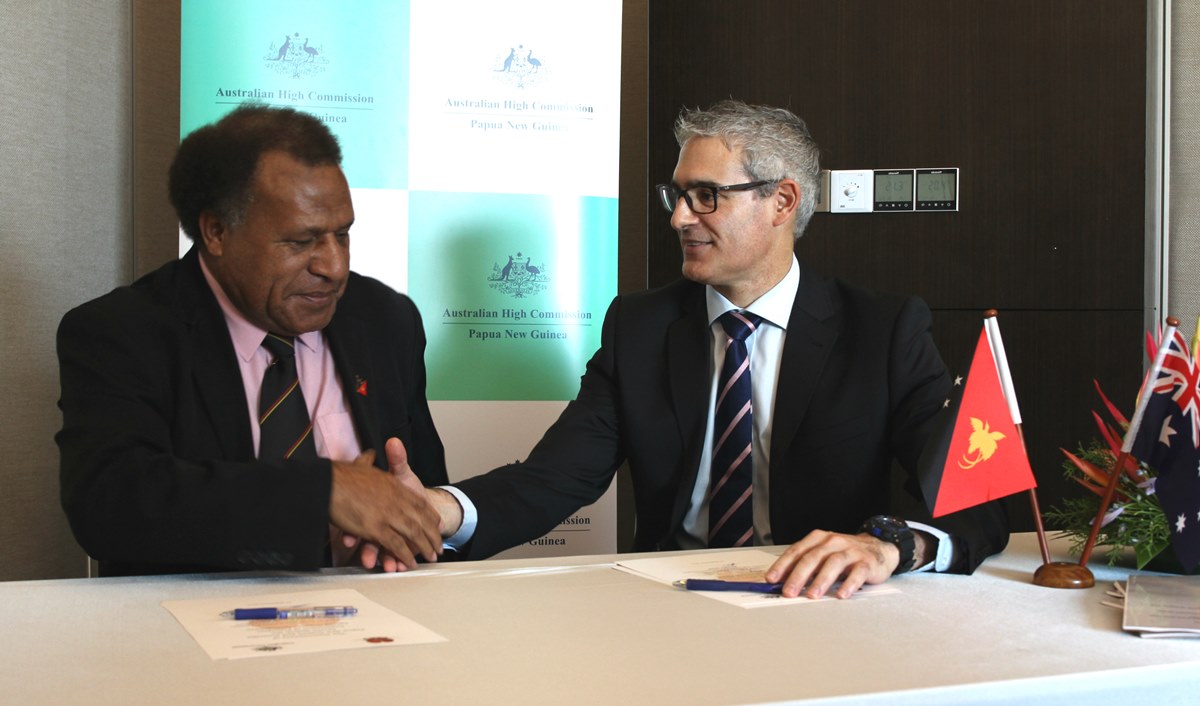 Minister for Transport and Infrastructure, Hon Westly Nukundj MP and Australian High Commission Minister Counsellor Benedict David at the signing the Agency Support Arrangement in Port Moresby.