A workshop in Bougainville has brought female artists together in preparation for the Ninth Asia Pacific Triennial of Contemporary Art (APT9) which will open in Brisbane in November 2018.
An initiative of the Queensland Art Gallery, Gallery of Modern Art (QAGOMA) with support from the Australian Government, the Women's Wealth workshop was led by Ruth McDougall, Curator, Pacific Art at QAGOMA, and Co-Curator, Sana Balai.
The project aims to create opportunities for Bougainvillean women to engage in creative exploration, and has drawn on artists Taloi and Marilyn Havini, to identify artists and art forms across Bougainville, as well as nearby islands in Solomon Islands with whom Bougainville women share linguistic and cultural ties. "
Women's Wealth aims to put value on you as women, the works you've made, and the space where you have come together," Ruth McDougall said to the artists at the close of the ten-day workshop.
The participants included ten artists from all parts of Bougainville, four from the Solomon Islands and four from Australia. The artists shared ideas and techniques, and experimented with art forms outside their usual practice.
Adelaide Mekea Aniona from Arawa said that there were only a few women from her village that still practice their artistic craft and the workshop had provided her with a new creative community. The workshop, hosted by Sister Lorraine Garasu at the Nazareth Centre for Rehabilitation, gave the women confidence to nourish their art and develop works in the lead up to APT9.
"I am just a local woman in my community, and was undecided about joining the workshop, but I've now seen my potential," said Pauline Anis from Siwai. Opening in November 2018, APT9 will bring together over 80 to 90 artists and groups from across Australia and the Asia Pacific to celebrate the strength of contemporary art and culture in the region.
The Women's Wealth workshop is supported by the Australian Government through the Australian Cultural Diplomacy Grants Program
For further information, including access to related materials, please contact the Australian High Commission media team: +675 7090 0100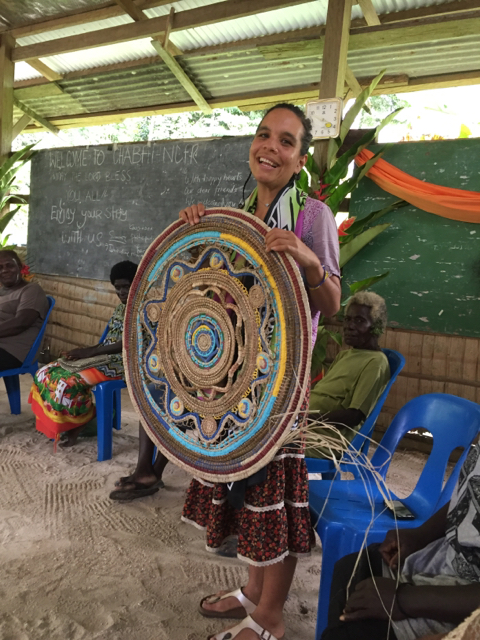 Elisa-Jane Carmichael of the Quandamooka people near Brisbane from displays her work representing the creativity of the workshop space.