Another successful community grant project has been completed in Bougainville with more than 600 people set to benefit from the opening of the Omokovi Water Supply Project on 12 September.
Residents of Omokovi, in Astinima on Bougainville's remote west coast, turned out in force to celebrate the opening of the project that has provided 10 water tanks and 2 toilets to several villages on the coast and hills near Astinima.
Water quality in Astinima has been affected by its increasing population and by volcanic activity in catchment areas. Astinima cannot be accessed by road, and its people must rely on boats to reach major services.
District Community Development Officer Fabian Kostin said: "This project shows what can be achieved through the hard work and ingenuity of the community. Using the skills learned in the project, the community constructed an additional nine toilets on their own."
Bougainville Community Grants are funded by the Australian Government, in partnership with the Papua New Guinea National Government and Autonomous Bougainville Government. Community grants provide funding to local groups that commit their time and co-contributions to address development challenges.
The Omokovi Water Supply Project grant of K86, 745.20 included a 10 per cent contribution from the community (of which K5, 496 was provided by former PNG Member for North Bougainville, Lauta Atoi).
Attending the ceremony was Bougainville Minister for Community Development, Josephine Getsi, Member for Teau Constituency, Charles Kakapitai, and First Secretary Peter Sohia representing the newly elected MP for North Bougainville, William Nakin.
Australian High Commission First Secretary Cameron Darragh congratulated the people of Omokovi on delivering a successful project.
"You have shown what is possible by working together, with the whole of the community now able to access clean water, which will improve the health and livelihoods of your people," Mr Darragh said.
The water supply project is the second grant activity implemented by the community in Astinima. The first project enabled the community to construct a full-size soccer field by clearing dense bush and trees in the village, which was achieved without the use of mechanised equipment. The field hosted the District Games after opening, and now provides a meeting place for the community and youth competition.
For further information, including access to related materials, please contact the Australian High Commission media team: +675 7090 0100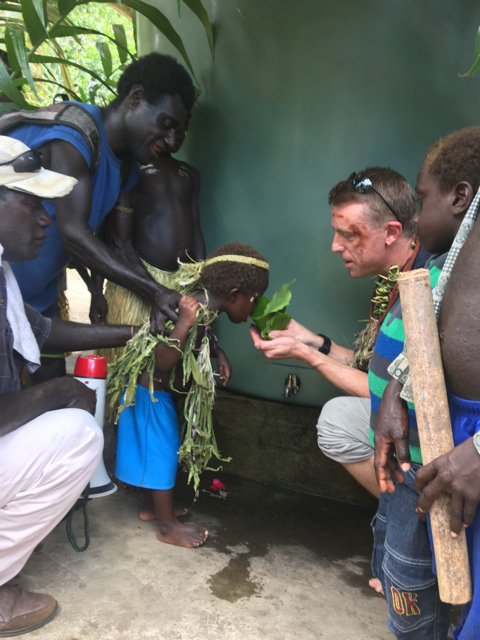 Under the project ten water tanks and two toilets were provided to several villages and hills near Astinima.