Over 200 Papua New Guineans proudly celebrated their achievements during the Australia-Pacific Technical College (APTC) graduation ceremony held at Port Moresby last week.
The new graduates, including 53 women, join the 2500 Papua New Guineans who have graduated from APTC since its inception in 2007. The graduates received certificates in 17 different programs including carpentry, catering operations and early childhood education.
In her keynote address, Ms Suzanne Edgecombe, Counsellor Education at the Australian High Commission congratulated the graduates and encouraged them to apply what they have learned in serving their employers, families and communities.
Ms Edgecombe said the Governments of Australia and Papua New Guinea are working together to ensure that Papua New Guinea continues to have a growing pool of skilled workers, critical to the present and future development of the country.
"The Papua New Guinea-Australia Partnership is focused on building economic and trade relations, institutional interactions and most importantly, people-to-people connections," said Ms Edgecombe.
She also commended APTC for successfully delivering TVET in the Pacific for 10 years.
As part of its 10-year anniversary celebrations, the APTC Port Moresby campus held an open day in early October and launched Impact Stories from Papua New Guinea. This publication features stories about the impact of APTC training on graduates, communities and the contribution to strengthening TVET across the Pacific.
In Papua New Guinea, APTC has a partnership with POMTECH to provide quality training to Papua New Guineans working in the construction, hospitality, electrical and engineering trades, as well as in upskilling POMTECH staff in areas of training and leadership.
APTC is supported under the Papua New Guinea-Australia partnership to deliver Australian vocational qualifications for skilled workers across the Pacific region.
For further information, including access to related materials, please contact the Australian High Commission media team: +675 7090 0100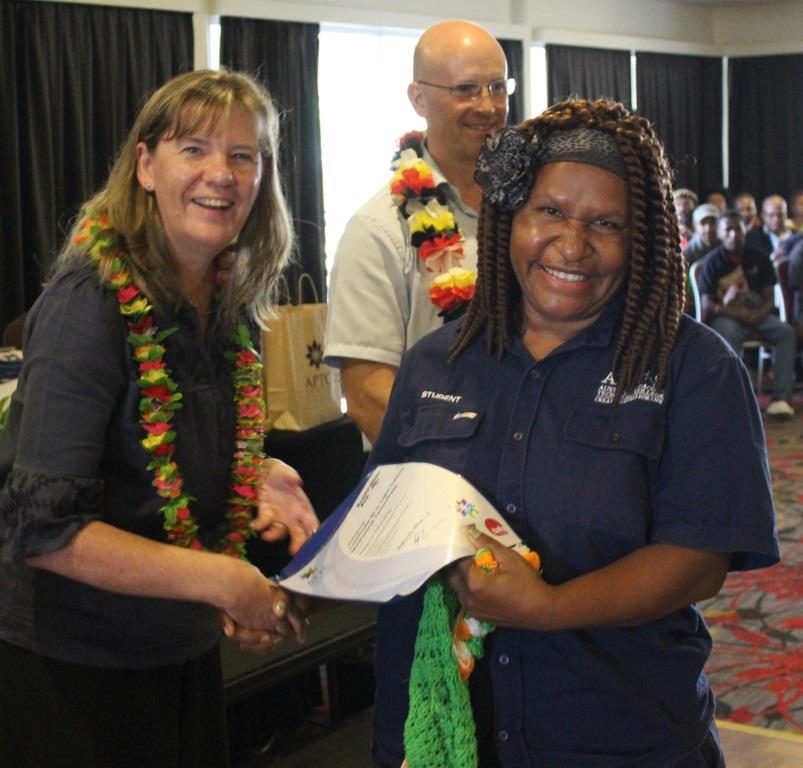 Australian High Commission Counsellor Education, Ms Suzanne Edgecombe presenting a Certificate III in Light Vehicle Mechanical Technology to Regina Murang. .