Australian Ambassador for Women and Girls, Dr Sharman Stone met Papua New Guinean women bus drivers who will be traveling to Australia for training with Australian bus company, Ventura.
The women are part of a program aimed at empowering women to engage in roles that have been traditional male roles in Papua New Guinea, as well as proactively addressing safety for women on public transportation.
Ambassador Stone met the women at the Ginigoada Foundation when she visited the foundation to see their work in improving the safety of women and girls on public transport, as well as providing life skills, literacy and vocational trainings for vulnerable youth and women.
Australian bus company, Ventura, provided 4 large buses as a donation to support the Safe Public Transport for Women, Girls and Children program, which Australia supports, and will further strengthen this partnership by training six Papua New Guinean women to be bus drivers.
The six women are currently undergoing the first part of their training driving 29 seater manual gear buses in Port Moresby through the Ginigoada Foundation, and will then go to Australia to train with Ventura.
Ambassador Stone said, Australia supports the Ginigoada Foundation in working to improve opportunities that empower women and girls and also end violence against women and girls.
"Australia will continue to work with Non-Government Organisations and community based organisations to optimise access and equitable opportunities for women and girls," said Ambassador Stone.
Ambassador Stone visited Port Moresby and Lae as part of her visit to Papua New Guinea. She met with Papua New Guinea stakeholders working to ensure women's representation in Parliament, the economic empowerment of women, ending family and sexual violence, and sorcery accusation related violence as part of Papua New Guinea's 20 Days of Human Rights Activism.
For further information, including access to related materials, please contact the Australian High Commission media team: +675 7090 0100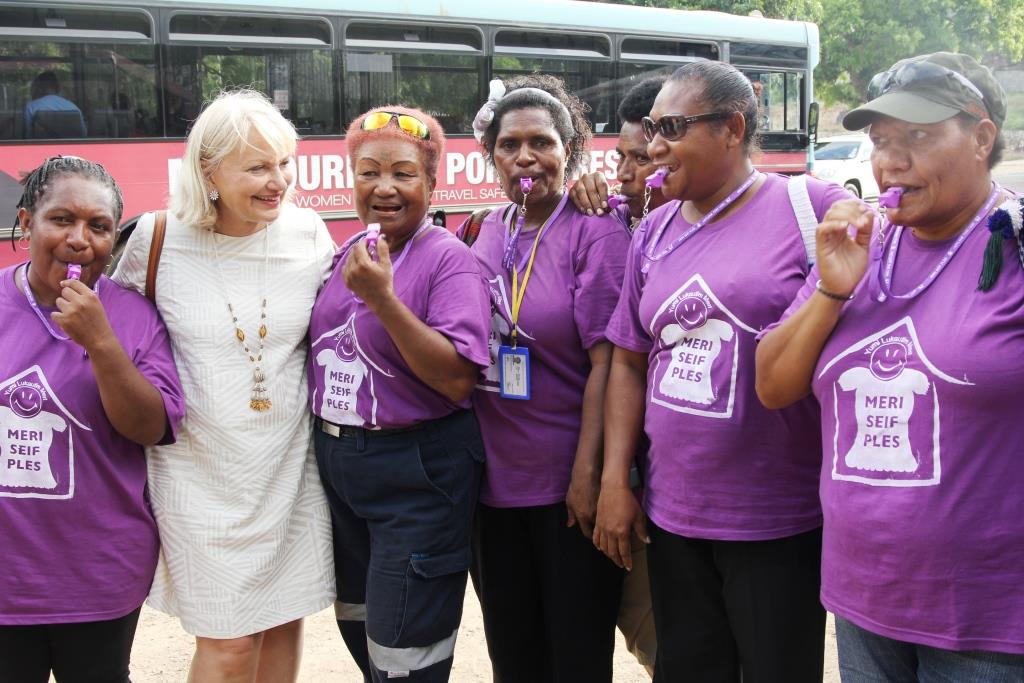 Ambassador Stone with the women bus drivers.