Papua New Guinea's churches say they want to work more closely with the National Government to improve development and gender equality across the country.
PNG's seven mainline churches have gathered in Alotau this week with their Australian Non-Government Organisation counterparts, and representatives of the Papua New Guinea and Australian Governments, for the 2017 Church Partnership Program (CPP) Forum.
The forum endorsed plans for the next phase of the CPP, which continues its focus on service delivery, while committing to greater engagement with Government to improve program outcomes.
Catholic Bishops' Conference General Secretary, Fr Victor Roche, said the churches were more united than ever before in their mission to bring services like health and education to rural Papua New Guineans, and to improve the lives of women and people living with disabilities.
"Any person in Papua New Guinea knows the significant role that churches play in the development of rural and remote areas," Fr Roche said.
"So we want to be working with the Government, including at the decision-making level, on these important issues."
CPP's first two phases were predominantly focused on grassroots service delivery, particularly in health and education, and strengthening the capacity of the churches to improve services on the ground.
Education and health will continue to be priorities in the third phase, along with a new focus on gender equity, social inclusion, disaster reduction, and bringing peace and prosperity to areas in conflict.
Church Leaders' Council Chairman and United Church of Papua New Guinea Moderator, Rev Bernard Siai, said the next phase of the partnership would involve a more collective approach to the nation's development.
"Our struggle is always, how do we get these things right down to where the people are?" Rev Siai said.
"We want everyone - church members, leaders, and particularly our Government and community leaders at all levels - to be part of this journey that we are taking."
Rev Siai said the churches were determined to make CPP sustainable for the long-term, eventually moving to a point where the program could operate without donor funds.
The CPP was established in 2004 under the Australian Government's development partnership with Papua New Guinea, recognising the churches role in service delivery in Papua New Guinea's rural and regional areas.
Australian High Commission Counsellor Brendan Peace paid tribute to the churches' for their role in bringing development to everyday Papua New Guineans.
"The Australian Government remains strongly committed to continuing our partnership with Papua New Guinea's Government and churches in support of their development efforts," he said.
For further information, including access to related materials, please contact the Australian High Commission media team: +675 7090 0100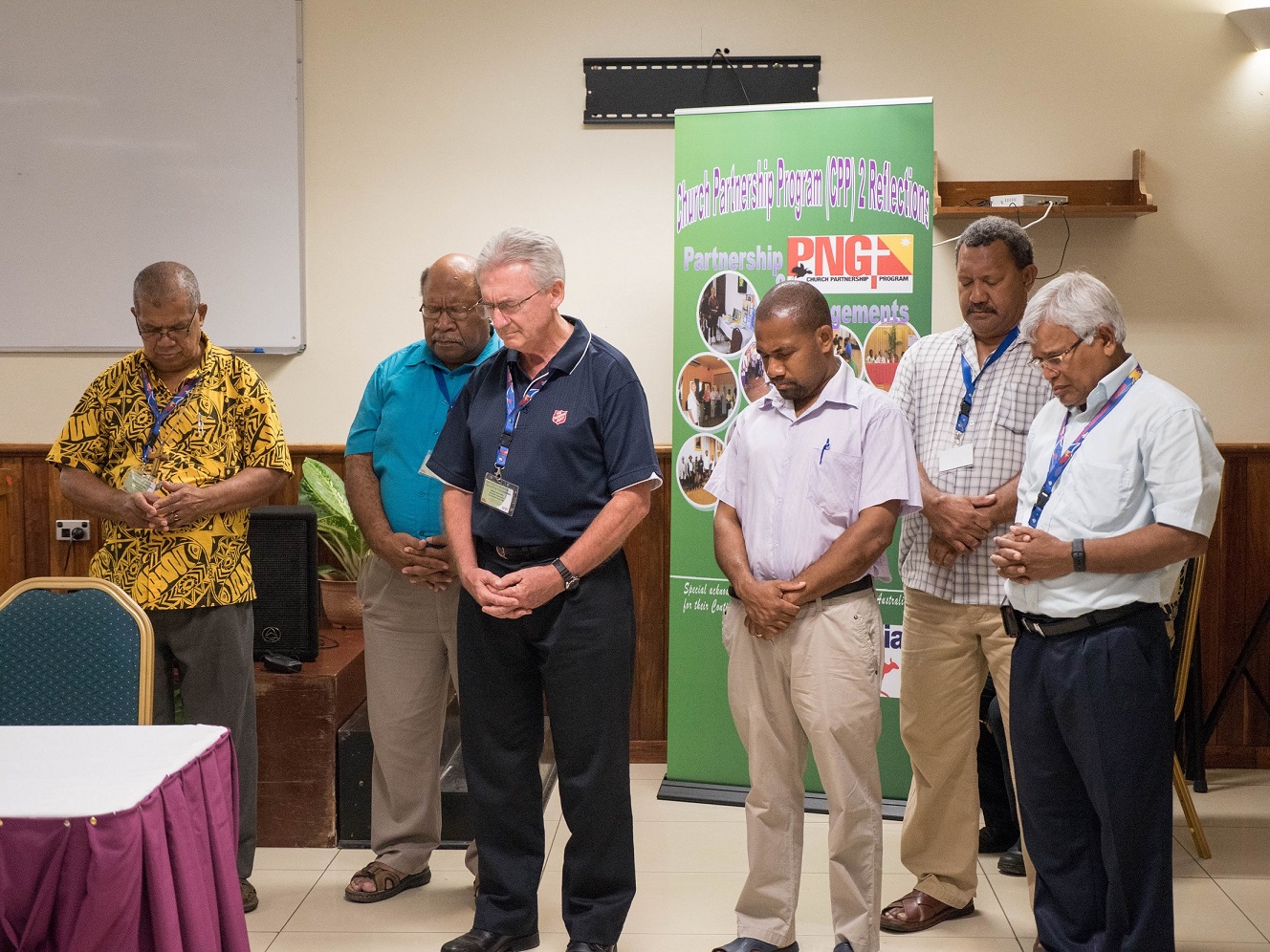 Church leaders welcome the new Church Leaders' Council Chairman, Col. Kelvin Alley, with a prayer.