The Australian Government has renewed its partnership with Papua New Guinea's leading public policy thinktank, the National Research Institute (NRI), ensuring it will continue to provide high-quality advice to the Papua New Guinea Government on key national priorities.
Australian High Commissioner Bruce Davis today (Tuesday March 21, 2017) announced a new package of support for NRI.
The commitment includes about PGK3.3 million towards a range of important research projects that will help to inform public policy in key areas and provide PGK4.1 million to support the creation of Papua New Guinea's Asia Pacific Economic Cooperation (APEC) Study Centre, to be based at NRI.
Mr Davis said that as a public but independent institution, NRI had an important role to play in supporting the development of evidence-based policy.
"NRI is uniquely placed to help Papua New Guinea take advantage of its natural resources and human capital, and to overcome the challenges that it faces as an emerging economic and regional power," Mr Davis said.
"It provides government with solid information to help it grow and manage the economy, and share the benefits of economic activity with citizens.
"The questions that preoccupy NRI go to the heart of this nation's future prosperity, the welfare of its people, and its ability to engage with the world."
This year's projects include an analysis of the effectiveness of economic regulations and competition policy; an evaluation of tax policy proposals; and a study on sub-national delivery of education services.
Other topics on the 2017 research agenda include an analysis of innovation in the informal economy, and a study on women's experiences in the upcoming 2017 election.
NRI researchers will also continue their work on customary leases to facilitate greater land access for residential and commercial development.
Australia's support for Papua New Guinea's APEC Study Centre follows the Government of Papua New Guinea's announcement in February of NRI as its host institution.
"This will ensure NRI is at the centre of preparations for APEC 2018, and will work with PNG's APEC Secretariat to calibrate the forum's policy agenda," Mr Davis said.
"I know it will continue to play a strong leadership role in this important space, as it has in other areas of national priority."
The Australian Government also provides technical support to NRI, and facilitates twinning arrangements between the institution and Australian universities.
Australia's support to NRI is provided as part of its development partnership with the Government of Papua New Guinea, which includes a focus on improving governance through knowledge and evidence-based policy.
For further information, including access to related materials, please contact the Australian High Commission media team: +675 7090 0100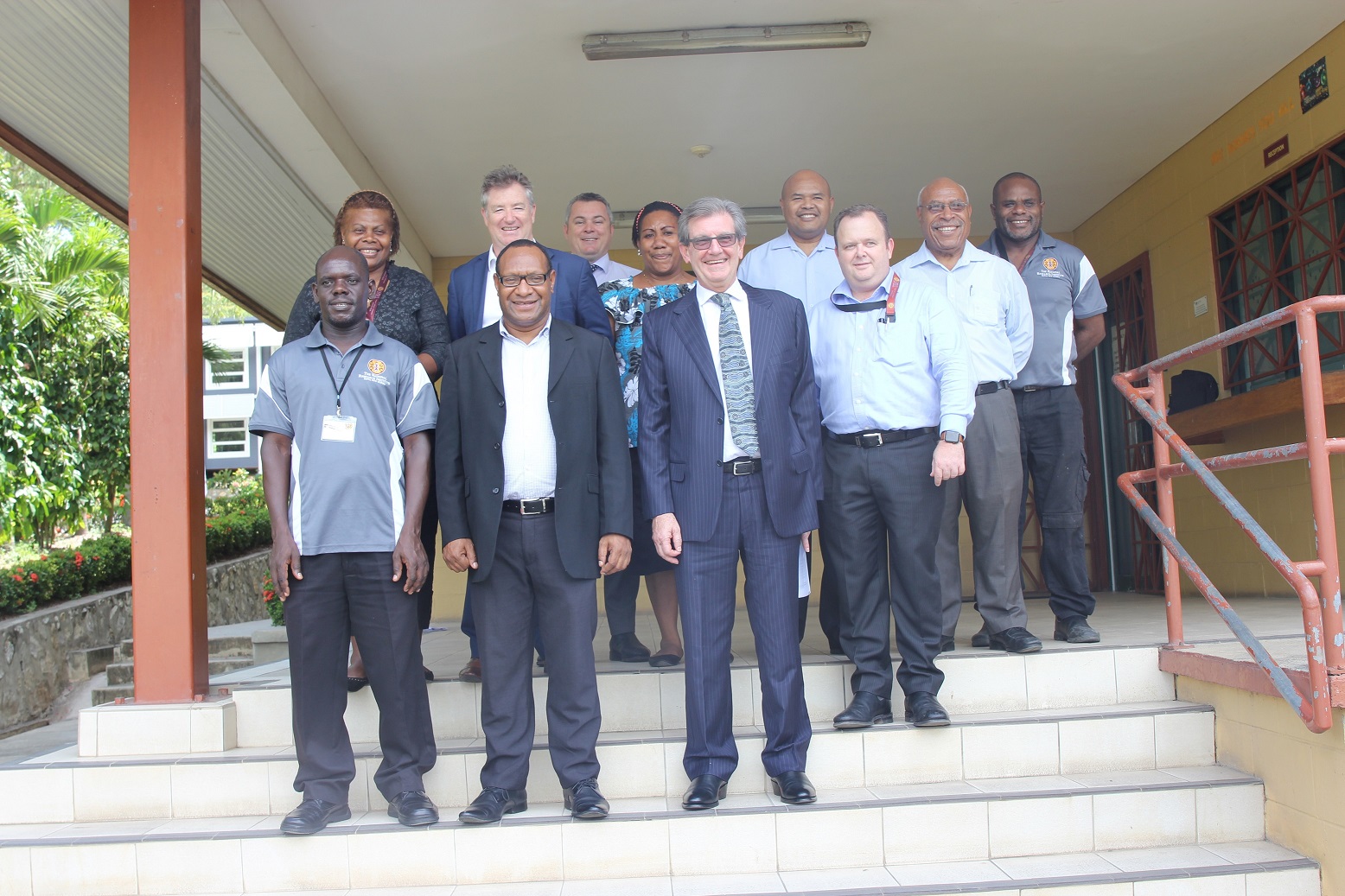 Officials from the National Research Institute and the Australian High Commission in front of the building that will house the APEC Study Centre.