Papua New Guinea Air Services Limited today launched a new project that will greatly improve the safety and reliability of aircraft landing at major airports across the country.
The Global Navigational Satellite System (GNSS) project will produce new instrument approach charts and enable satellite-based navigation at up to 45 airports and airstrips, greatly improving safety and air traffic management in the country.
Captain Ted Pakii, CEO and Managing Director of Air Services Limited (PNGASL), was excited about the introduction of this ground-breaking technology.
"The transition from ground based navigational aids to this satellite based technology will greatly improve the reliability and accuracy that is lacking with ground based infrastructure in our country.
"The GNSS project is a key element of our very comprehensive modernization program. The project marks a significant leap forward in the provision of air navigation services in PNG. PNGASL will now be using advanced technology to enhance the safety of flight operations throughout Papua New Guinea's airspace. The project is another excellent example of the value of our long-term partnership with Australia."
Given PNG's rugged terrain, the aviation sector plays a critical role in keeping businesses and communities connected. GNSS-based approaches will also help to reduce aircraft emissions and fuel costs by enabling improved and more efficient flight paths.
Australian High Commission Minister Counsellor, Benedict David, noted the broader benefits of the project for PNG's economy.
"The Papua New Guinea and Australia partnership is pleased that this investment will align Papua New Guinea's aviation sector with international standards and support significantly safer skies.
"The project is also expected to reduce business costs for airlines and increase the competitiveness of the domestic aviation industry. This is crucial to improving supply chains for fresh produce and promoting tourism,"
Mr David said.
Funding for this upgrade to aviation technology is being provided by the Australian Government at an estimated cost of K8.1 million and forms part of Australia's broader partnership to support PNG's aviation sector delivered through the Transport Sector Support Program (TSSP).
For further information, including access to related materials, please contact the Australian High Commission media team: +675 7090 0100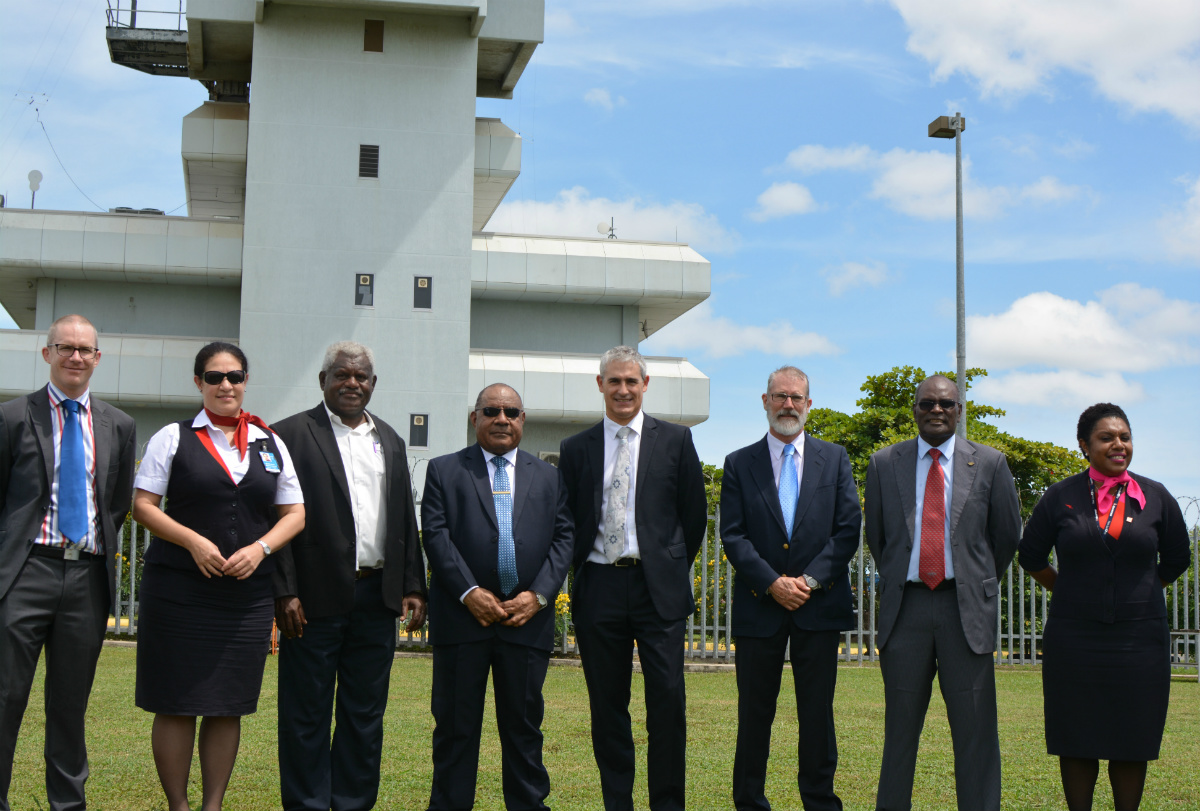 Minister for Transport and Infrastructure Malakai Tabar (third from right), Managing Director of PNG Air Services Limited Captain Ted Pakii and Australian High Commission Minister Counsellor Benedict David with officials at the launch of the Global Navigational Satellite System.