A formal ceremony was held this week (March 21, 2017) to celebrate the completion of a project to reseal the road from Arawa town to Kieta Port, laying the foundation for greater economic activity in the region.
The K8.6 million project was delivered as part of Australia's long-running partnership with the Autonomous Bougainville Government to help maintain Bougainville's road network. It complements the recent K4.7 million project to seal a number of town roads in Arawa.
The new surface and upgraded drainage has made the road safer and more reliable whilst improving connections between people and essential services. The resealed road has reduced travel times, better connecting local businesses to and from Arawa town and the local port and airport.
Secretary of Bougainville's Department of Technical Services, Bernard Tzilu, was very pleased with the improvements to the road delivered through the project.
"This project typifies the success of our long-term partnership with Australia to maintain Bougainville's trunk road network. The project has improved the safety and comfort of travel whilst providing an economic boost to the region. Projects such as this also provide important employment opportunities for local residents."
A high quality transport network in Bougainville acts as a catalyst for growth in the local economy, enabling businesses to expand whilst reducing vehicle operating costs.
Australia's Deputy High Commissioner, Bronte Moules, cut the ribbon at the community celebration and congratulated the Autonomous Bougainville Government on its achievement.
"This project has enabled better connections to health and education facilities as well as improving access to market for local copra and cocoa growers. The road improvements are part of Australia's long-term commitment to support the maintenance of Bougainville's vital transport network."
Australia's support for this project is delivered through the Papua New Guinea – Australia Transport Sector Support Program.
For further information, including access to related materials, please contact the Australian High Commission media team: +675 7090 0100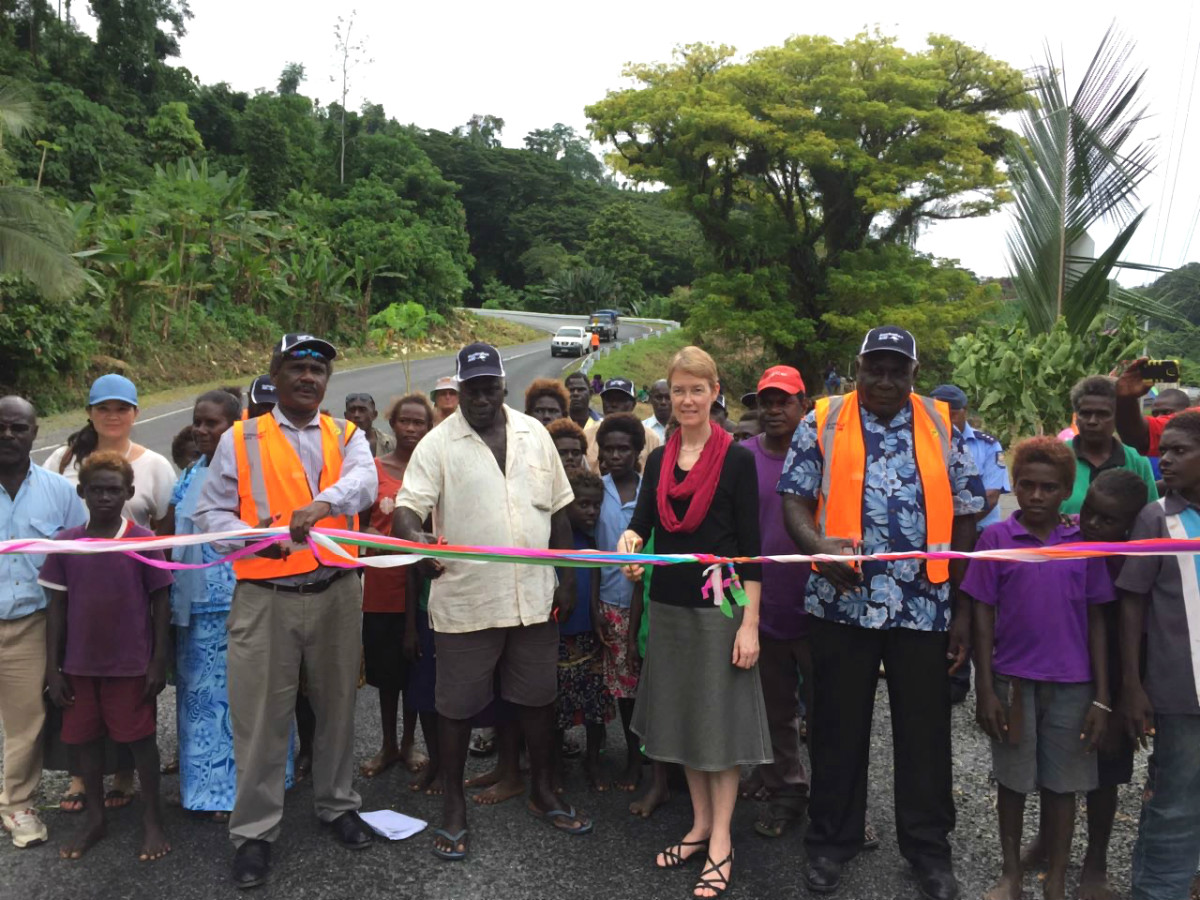 Australia's Deputy High Commissioner Bronte Moules (centre) during celebrations marking the completion of the Arawa to Kieta Port road.