The Pacific Leadership and Governance Precinct continues to support the revitalisation of the Papua New Guinea Institute of Public Administration (PNGIPA) with the construction of a new Learning Resource Centre.
A ground-breaking ceremony was held on 21 June to celebrate the centre, which will provide modern spaces to Papua New Guinea for teaching, research and discussion.
The new resource centre will also complement the ongoing construction of a new administration office called the new Bully Beef Building at PNGIPA, which started last year.
The institution's capacity to deliver courses is being strengthened through the Precinct, supported by a partnership with the Australian Public Service Commission.
More than 300 Papua New Guineans have graduated from PNGIPA in 2017, including 42 public servants who were awarded Australian-accredited diplomas through the Precinct partnership.
The institution also hosts the Precinct's Future Leaders Program, which was launched in March 2017 and provides executive leadership training for emerging public sector leaders.
The Future Leaders Program is a collaboration between PNGIPA, the University of Papua New Guinea and the University of Queensland, with guidance from the Department of Personnel Management.
Australian High Commissioner Bruce Davis said the Precinct is an example of the modern partnership between Papua New Guinea and Australia that is based on shared economic and strategic objectives.
"Our two governments are supporting the development of leaders at all levels of government that can deliver essential services to the people," Mr Davis said.
"This Precinct partnership is focused on the development of Papua New Guinea's next generation of public sector leaders; equipping them with the skills, values, networks, and experience to take forward the development of Papua New Guinea."
The new Learning Resource Centre will replace the deteriorating library, which was constructed in 1963 and gifted to the Councils of Papua and New Guinea by the local Government of Australia in 1966.
PNGIPA has played an important role in the history of leadership development in Papua New Guinea and the new Learning Resource Centre will support this tradition to be continued.
For further information, including access to related materials, please contact the Australian High Commission media team: +675 7090 0100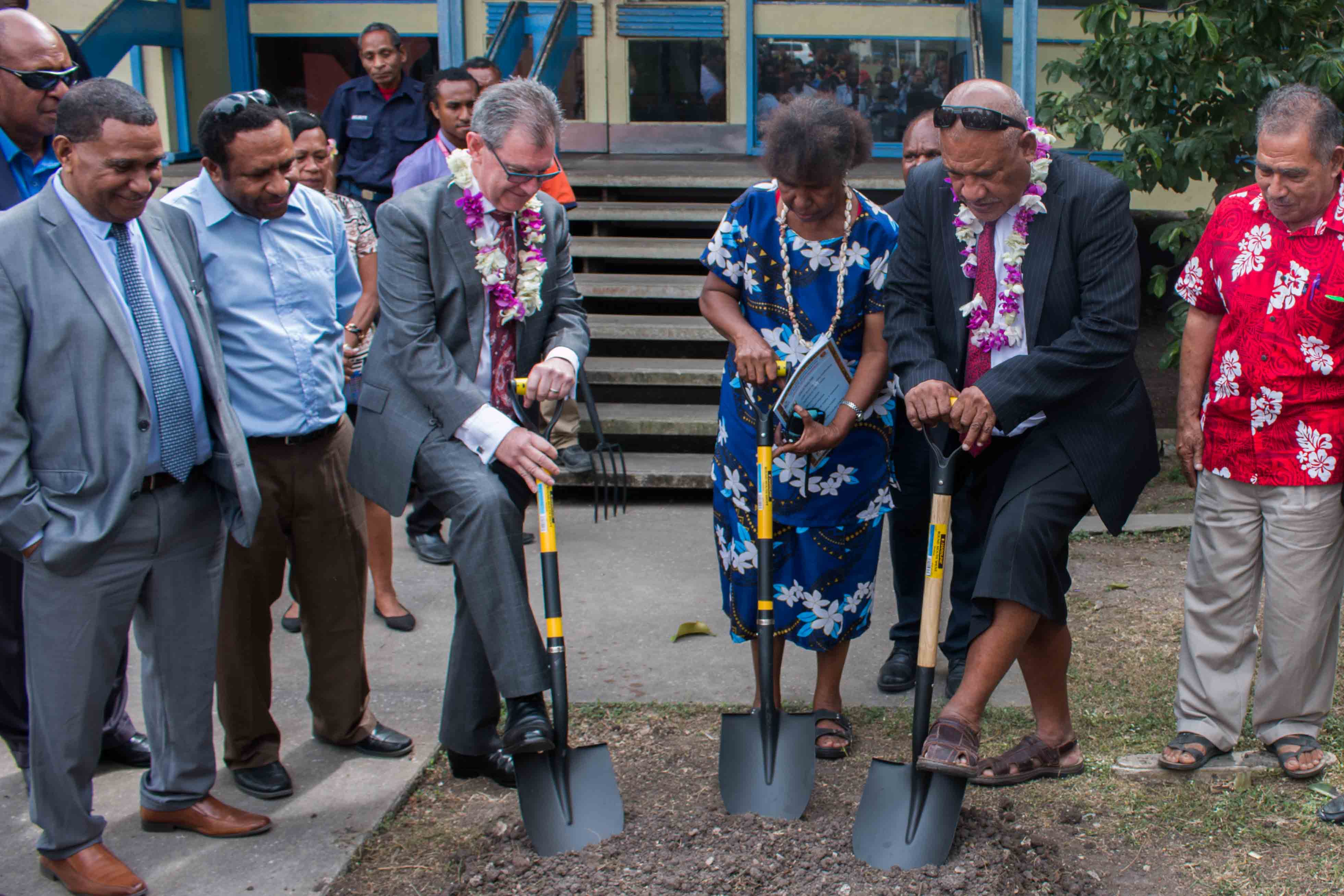 A ground breaking ceremony for the Learning Resource Centre was held with Australian High Commissioner Bruce Davis, DPM Secretary John Kali and Librarian Malala Moi, who has worked at PNGIPA for 42 years.