The Minister for National Planning and Monitoring, Hon. Richard Maru, MP, the Minister for Health and HIV/AIDS, Hon. Sir Puka Temu, MP and the Australian High Commissioner H. E. Bruce Davis visited Lae today to review the strong progress that is being made to redevelop ANGAU Hospital. The redevelopment is progressing on schedule and will enable provision of improved health care for the people of Morobe Province and the Momase Region more broadly.
The visiting party, hosted by Governor of Morobe, Hon. Ginson Saonu, MP, took the opportunity to review the first phase of works at ANGAU Hospital, completed during 2016. This included a number of high impact investments to upgrade existing infrastructure and facilities at ANGAU including an operating theatre, a new maternity ward and a dental clinic alongside significant upgrades to existing infrastructure. The first phase of work also incorporated a major redevelopment of facilities at the Lae School of Nursing to allow for improved training of health care workers to support an expansion in service delivery capability at ANGAU.
During the visit, Hon. Richard Maru, MP, thanked the Australian Government and its people for the generous support and partnership to PNG, expressing his strong support for the project. He stated the need to continue to evolve the relationship to one based on a mutually beneficial trading and investment partnership. Minister Maru reemphasized the Government's goal of growing the economy and empowering people. He noted that it takes healthy people to contribute effectively to economic growth of the country.
Minister Maru said, "I am confident this will make a real difference to health outcomes for communities throughout the region. This investment reflects our commitment to pursue key investments in the region that spur growth and development."
The second phase of work at ANGAU has been underway since early 2017. In addition to site preparation for further major works, key investments in this phase include the construction of a new Family Support Centre alongside a new tuberculosis ward.
Minister Temu welcomed the second phase of the ANGAU development.
"I am delighted with the progress of works and in particular I am looking forward to seeing a transformation to the quality of service delivery," Minister Temu said.
Alongside works at ANGAU, Australia has made a major investment to upgrade provincial health infrastructure across Morobe Province. This includes investments in district facilities at Bulolo, Finschhafen (Braun), Tewai-Siassi (Etep) and Markham (Mutzing) as well as a number of urban clinics in Lae district.
Governor Saonu was pleased that this will support more equitable access to health care across rural and remote parts of Morobe Province.
"Upgrading provincial health infrastructure directly supports the redevelopment of ANGAU by reducing the patient load and allowing ANGAU to better function as a referral hospital for more complex medical issues that cannot be treated locally," Governor Saonu said.
Australian High Commissioner Bruce Davis was also impressed with the achievements to date and plans for future development.
"Australia is committed to supporting the health sector in Papua New Guinea. The people of Papua New Guinea are the foundation for future economic growth. This major investment in the Morobe Provincial health system is being jointly managed as a true partnership between Papua New Guinea and Australia. I am pleased at the progress made to date and look forward to what will be achieved as the redevelopment continues to progress.'
A team of specialist health infrastructure architects is currently progressing the design of a new clinical services building that will include a new emergency department, obstetrics and gynaecology facilities, a paediatrics ward alongside new operating theatres and an expanded suite of clinical support services. Given the scale of the redevelopment works envisaged, works on this next phase of delivery are expected to continue for several years and will inject tens of millions of kina into the local economy.
The ANGAU redevelopment project is being jointly delivered as an integral part of the partnership between the Governments of Papua New Guinea and Australia.
For further information, including access to related materials, please contact the Australian High Commission media team: +675 7090 0100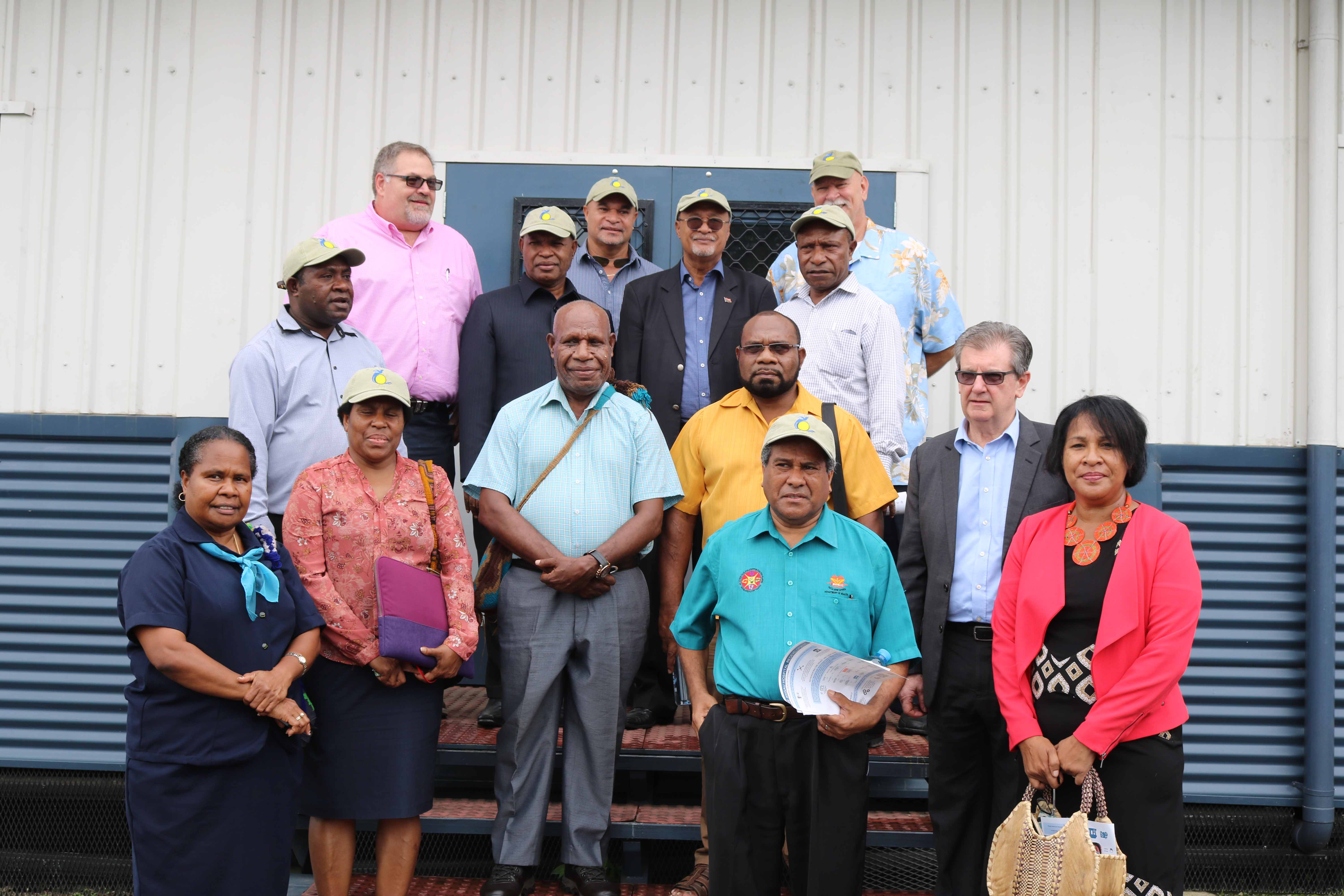 Minister Maru, Minister Temu, Governor Saonu and Mr Davis with representatives from the Provincial Government, ANGAU Hospital Board and Government Departments.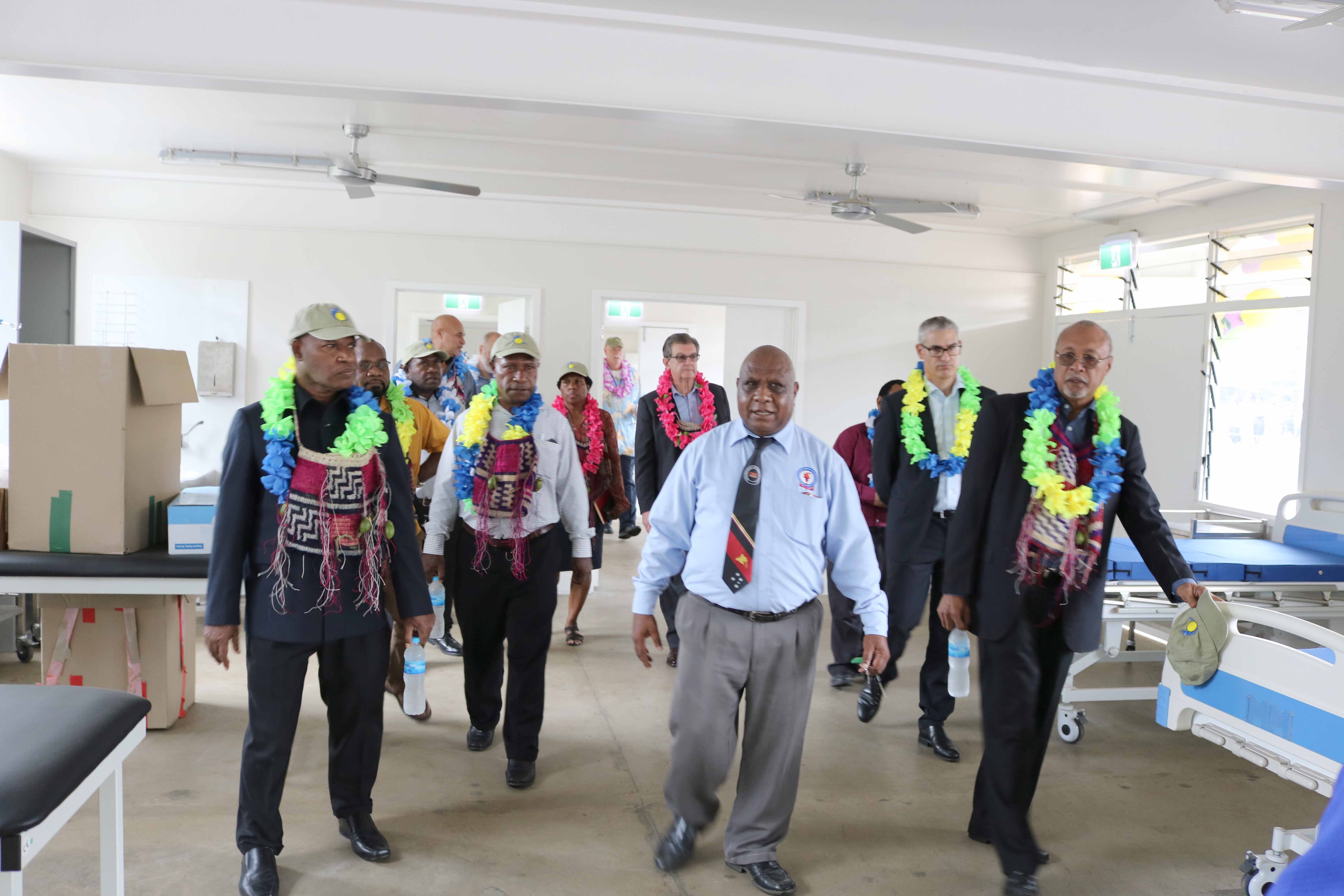 Lae School of Nursing Principal, Manaseh Moya (centre) leading the delegation in a tour of one of the new facilities at the School of Nursing.