Phase Three of the Church Partnership Program (CPP) was launched in Port Moresby last week. The next phase of CPP will focus on enhanced collaboration to improve service delivery, build community resilience and strengthen the institutional capacity of the Papua New Guinea Council of Churches and its members.
Through CPP Australia supports churches to improve their capacity to deliver crucial health and education services, especially in remote areas, as well as deliver a broad range of activities in support of gender equality and social inclusion, peace and prosperity, and disaster risk reduction.
Australian High Commissioner to Papua New Guinea, Bruce Davis, launched the new phase of CPP and remarked on the success of this 13 year program and its profound impact on the lives of many Papua New Guineans.
Mr Davis said that the Australian Government remains committed to supporting the churches in their efforts to build an inclusive and prosperous Papua New Guinea.
In particular, he acknowledged the churches' leadership in the development of a joint Theology of Development and Theology of Gender Equality.
"Together, these demonstrate the role of churches in influencing public debate and building momentum for social change", he said.
"This next phase will explore options for enhanced collective action including opportunities to strengthen the Papua New Guinea Council of Churches as the national peak body, and potential for churches to deepen their engagement with Government on issues of national interest."
Chair of the Church Leaders' Council and representing The Salvation Army, Colonel Kelvin Alley, said the churches' willingness to recognise their respective strengths and work closely with government was key to CPP's success.
The launch was part of the CPP's biannual forum which brought together representatives from the seven Papua New Guinea mainline churches (United Church, Seventh Day Adventist, Evangelical Lutheran Church, Catholic Church, Anglican Church, Baptist Union and the Salvation Army), Australian Faith Based Organisations and the Governments of Papua New Guinea and Australia.
A significant outcome of the Forum is the invitation from the Secretary for the Department of Provincial and Local Government Affairs, Mr Dickson Guina, to churches to join the National Disaster Management Committee he chairs. Another is the commitment to establish a desk for CPP within the Department for Community Development and Religion.
For further information, including access to related materials, please contact the Australian High Commission media team: +675 7090 0100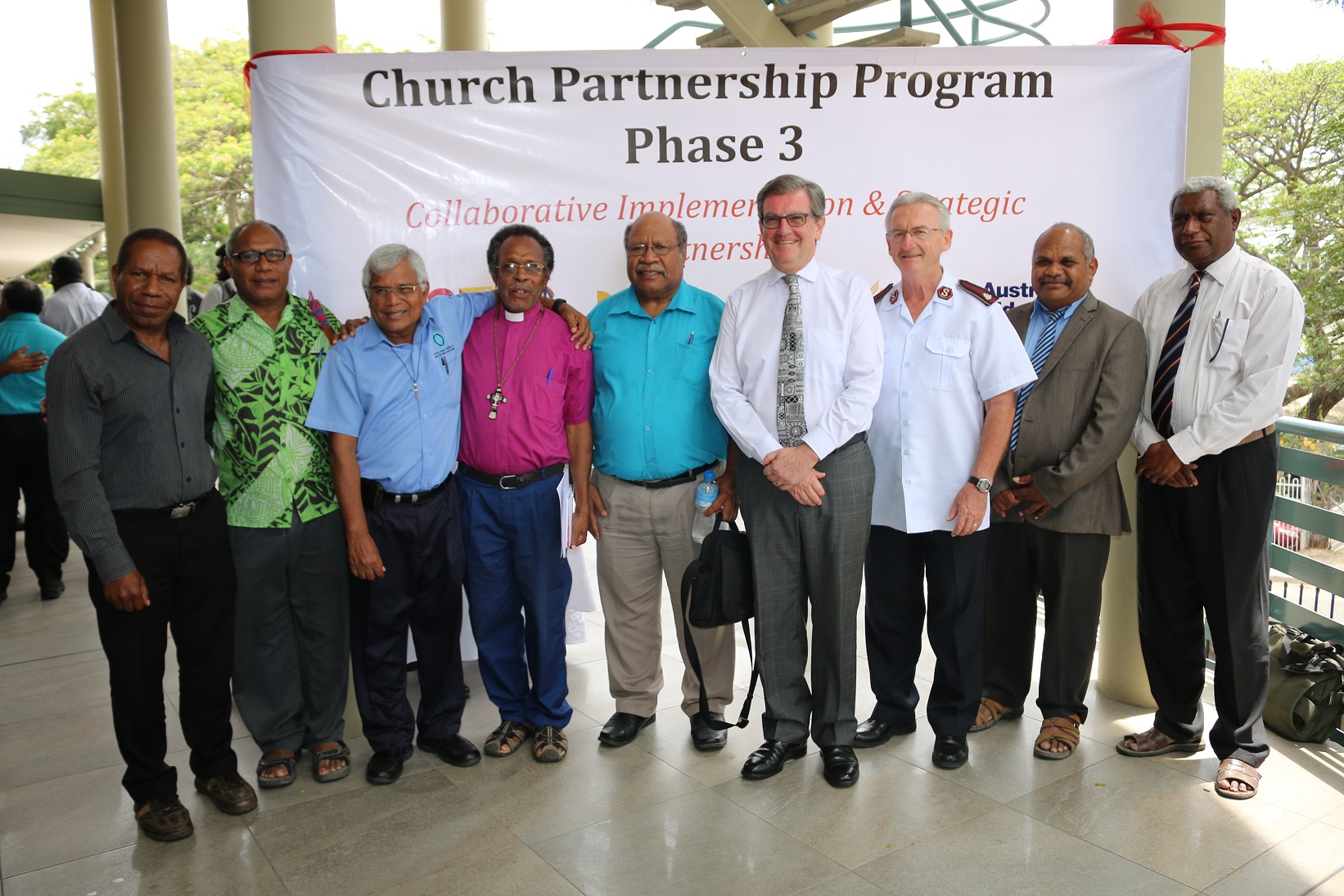 Australian High Commissioner Bruce Davis (centre) with leaders of the Church Partnership Program.