Papua New Guinea's second largest city, Lae in Morobe Province, has signed a Statement of Intent with Cairns, Australia, which will among other things, pave the way for improved tourism, cultural engagement and economic linkages between the two cities.
Member for Lae, Hon. John Rosso signed the arrangement with Cairns Sister City Ambassador Sim Hayward on Friday 6 October, following a Sister City Forum involving community and business representatives from Lae and Cairns.
The arrangement also covers areas like municipal services, urban planning, botanical gardens, emergency services, education, health and women in business.
At the signing, Mr Rosso expressed strong support for the Sister City relationship.
"I will give my support where needed to push this forward. There is much we can do together on trade, investment and other areas as identified in the Statement of Intent."
Mr Rosso said Lae would benefit from help from partners to make changes for a better city.
Cairns Sister City Ambassador Hayward was pleased with the enthusiastic response to enhancing the Sister City relationship with Cairns.
"The opportunities for engagement between businesses in Lae and Cairns are enormous with the opening of the new Lae International Airport in 2020 and discussions for direct flights in the near future."
Australian Consul-General in Lae, Paul Murphy said the Australian Government is working to promote mutually beneficial links between Lae and Cairns.
"This new path for the Sister City relationship rests on a strong bedrock of good-will between the people of both cities," Mr Murphy said. "Australia wants businesses in Morobe to succeed to benefit commerce and development in Papua New Guinea and to and provide opportunities for Australian companies and consumers."
A business delegation, led by Gary Aylward from Tradelinked Cairns and Papua New Guinea, accompanied the Sister Cities Ambassador. Business leaders held talks at a breakfast hosted by the Lae Chamber of Commerce. Chamber President Alan McLay, spoke about the exciting plans for development of an international airport at NADZAB. Businesses were impressed by the extent of commercial opportunities in Morobe and synergies with Cairns.
Immediate collaboration between the two cities will begin in the areas of tourism and botanical gardens cooperation.
Click here to view the Lae-Cairns Sister Sister Arrangement signed by Member for Lae, Hon. John Rosso and Cairns Sister City Ambassador Sim Hayward.
For further information, including access to related materials, please contact the Australian High Commission media team: +675 7090 0100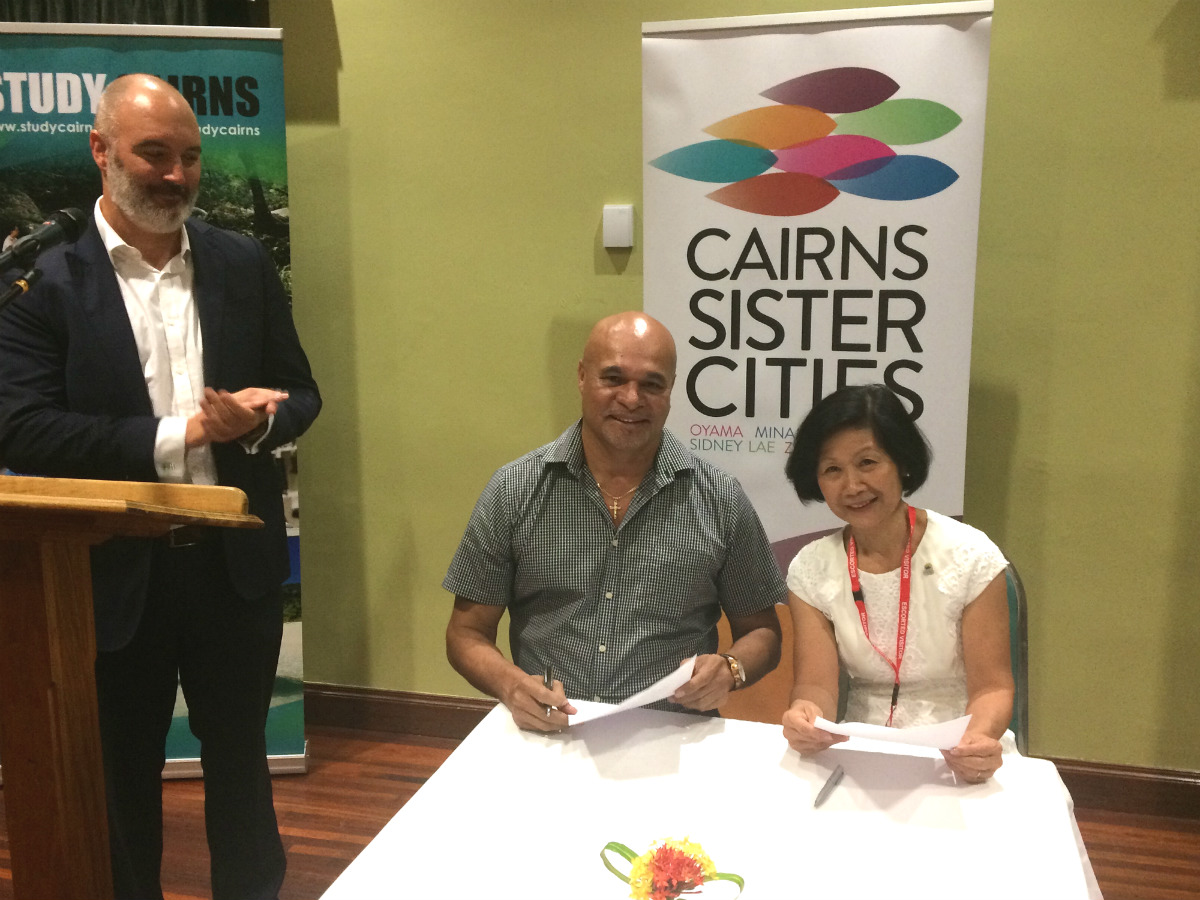 Australian Consulate-General Paul Murphy looks on as Lae MP John Rosso signs the Sister City arrangement with Cairns Sister City Ambassador Sim Hayward.