A successful partnership with Hargy Oil Palms Limited has seen a K3.26 million upgrade to Pata-Painave Primary School, the first project completed under phase four of the Incentive Fund supported by the Papua New Guinea-Australia partnership.
This project has delivered new learning and recreational infrastructure for Pata-Painave Primary School in Pomio District, East New Britain Province.
The new infrastructure includes an undercover basketball court and sports field, four double classrooms, staff accommodation, a women's resource and training centre, an administration block and composting toilets.
The resource centre will serve as a home economics classroom for students and a life-skills training centre for local women, to develop income opportunities and manage their finances through financial literacy training.
The new facilities will improve teaching and learning for staff and students as well as encourage student enrolment to increase.
Australian High Commission Counsellor, James Passmore, formally opened the new facilities on Tuesday 28 November.
"The Government of Australia recognises that participation in sport leads to healthier and more inclusive communities. Pata-Painave Primary School can now provide enhanced learning opportunities for the children of this region. This benefits the whole community."
SIPEF's Managing Director and Chairman of Hargy Oil Palms Ltd, Francois Van Hoydonck emphasised the value of private businesses focusing on sustainable development, especially in remote parts of the country.
"Students at Pata-Painave used to study outside, under the sun, with the most basic of resources," said Mr Van Hoydonck.
"With support from the Governments of Papua New Guinea and Australia, we've made it our business to ensure that surrounding communities as well as Hargy employees and their families have access to a better learning environment."
Incentive Fund has provided more than K227 million for education projects since 2000.
For further information, including access to related materials, please contact the Australian High Commission media team: +675 7090 0100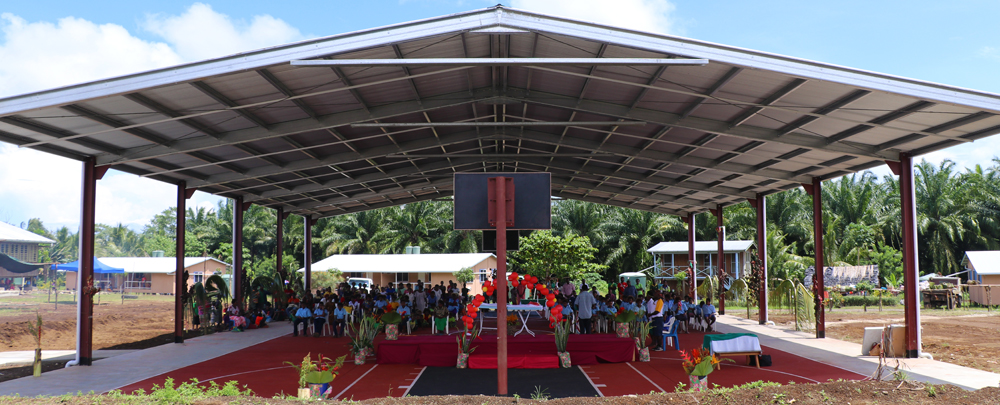 Crowd at the opening ceremony in the undercover basketball court (new staff accommodation can be seen at the bottom end and new classrooms at the left hand side.