Lynneth is working on the construction of new science labs at the Palmalmal Secondary School in East New Britain's Pomio district.
"Gender equality means that when a man has an opportunity to do something, women should have that opportunity too," says Lynneth.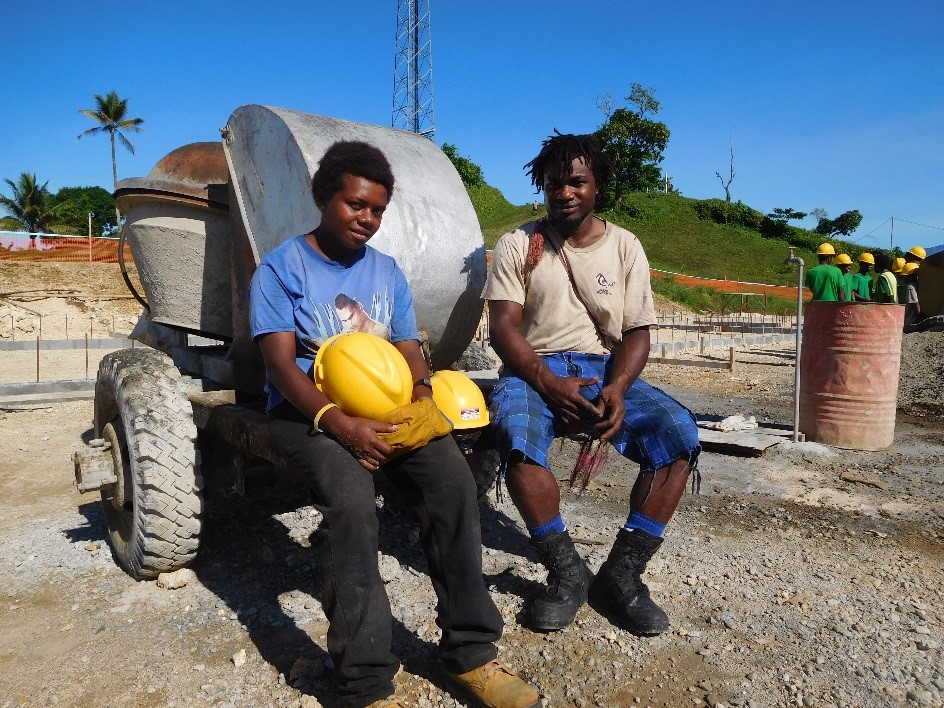 Lynneth, plumbing student and Terrence, carpentry student.
That's just how female students at Palmalmal Secondary School felt when they saw Lynneth doing what is often considered to be "men's work".
A female year 11 student commented, "Watching them work made me want to be like them and distracted me from class because I always kept looking out and day dreaming that that was me up there!"
Empowerment is at the heart of the upgrade project, funded by the Papua New Guinea-Australia Partnership through the Incentive Fund. Making the school more female-friendly will help girls learn better and stay at school longer so they can reach their full potential.
The project also includes new classrooms and ablution facilities, motivational talks by female supervisors, new teacher policies and codes of conduct, events in the community to promote gender equality, and equal participation in debates and other extracurricular activities.
"Our top student last year is now doing law at UPNG and we're very proud of her," says Senior Subject Master Ludwig Kampukia, who has taken on the role of gender equality and social inclusion champion. He's demonstrated how small changes can make a big difference to attitudes at the school. All names are now called in alphabetic order, rather than boys before girls, and mixed seating arrangements have been introduced.
For further information, including access to related materials, please contact the Australian High Commission media team: +675 7090 0100